Written by Megan Ayala. Last Updated: January 10, 2023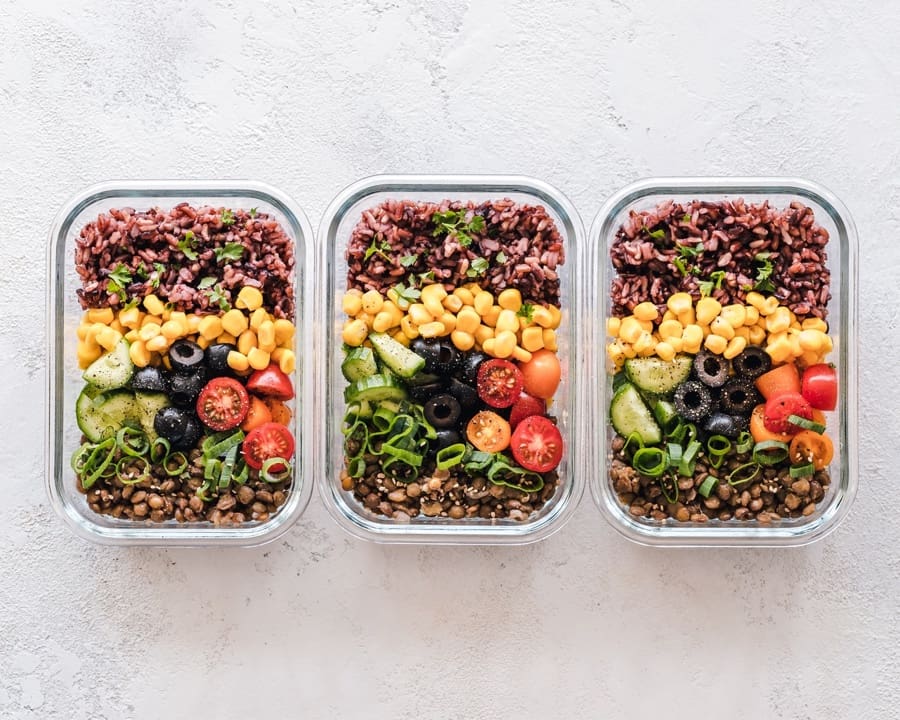 Looking for an honest Mayo Clinic Diet review? Wouldn't it great if there were a diet that was designed with your health and well being in mind. A diet that wasn't about a quick fix, but was dedicated to helping you make permanent changes, so you could keep the weight off for good this time?
We're here to tell you that diet does, in fact, exist, and it's called the Mayo Clinic Diet.
It comes from the elite team at the Mayo Clinic, and it's one of the best diets we've tried, if you're looking to make real, meaningful changes to your lifestyle. Changes that you can use to improve your life for good.
This Mayo Clinic Diet review is going to show you exactly what this diet is, how it works, and we'll hear from real customers – those who were happy with their experience, and even a couple who had some complaints.
Ready to learn about one of the best diets of 2023?
Great!
Let's get started…
What is the Mayo Clinic Diet?
The Mayo Clinic Diet is the official weight loss program developed by the world-renowned team at the Mayo Clinic [1]. That means, they designed this diet based around years of research and clinical trials.
It teaches you how to make healthy eating and exercise choices, by making permanent changes to your lifestyle.
The Mayo Clinic Diet isn't a "quick fix" weight loss program: It's focused on swapping bad habits with good ones, so you can actually have a shot at keeping the weight off for good.
How Does it Work: Mayo Clinic Diet 2 Week Jumpstart
The Mayo Clinic Diet works in two key phases, with the first being the 2-Week Jumpstart:
Phase 1: 2-Week Jumpstart
Phase 2: Live it!
Here's how these phases work:
Phase 1: 2-Week Jumpstart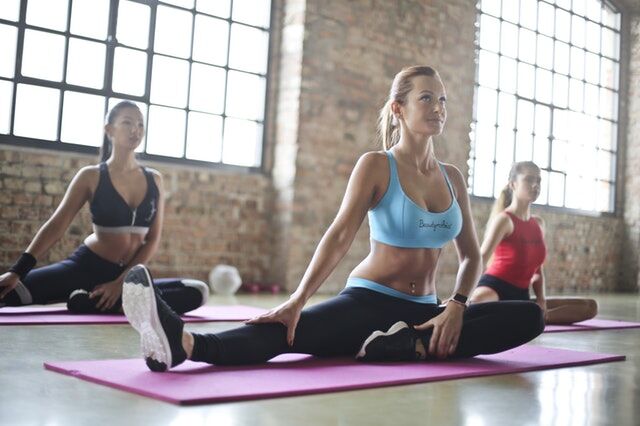 During the first phase of the diet, you're setting your body for weight loss mode. It should help "jumpstart" your weight loss, and put your body in fat burning mode.
During these first 14 days, you may lose up to 6 to 10 pounds.
You'll also be looking for the bad habits you've developed over the years, and swapping them out with new, healthier habits from Mayo Clinic.
Mostly, you'll be eating healthier and getting more exercise.
Phase 2: Live it!
This gives you a chance to "live" the new healthy habits you learned during the 2-Week Jumpstart. The longer you stick with it, the more likely you are to be able to keep it going over the long haul.
Continue to get guidance and tips from health experts, plus learn the techniques you need to maintain your weight loss.
Most people will see an average weight loss of 1 to 2 pounds per week until they're reached their goal weight.
Weight Loss Tools to Help: New Mayo Clinic Diet Tools for Success
To help you on your journey during Phases 1 and 2, Mayo Clinic gives you access to valuable tools you need for success.
100s of Healthy Recipes
Meal Plans
Fitness Plan: Exercises and Tips
Habit Tracker
Food Journal
Weight Tracker
What is the Healthy Eating Pyramid?
If you want the clearest picture available for seeing what you'll be eating on the Mayo Clinic Diet, then look no farther than their Healthy Eating Pyramid.
It's the perfect illustration for how you should prioritize what you're putting into your body: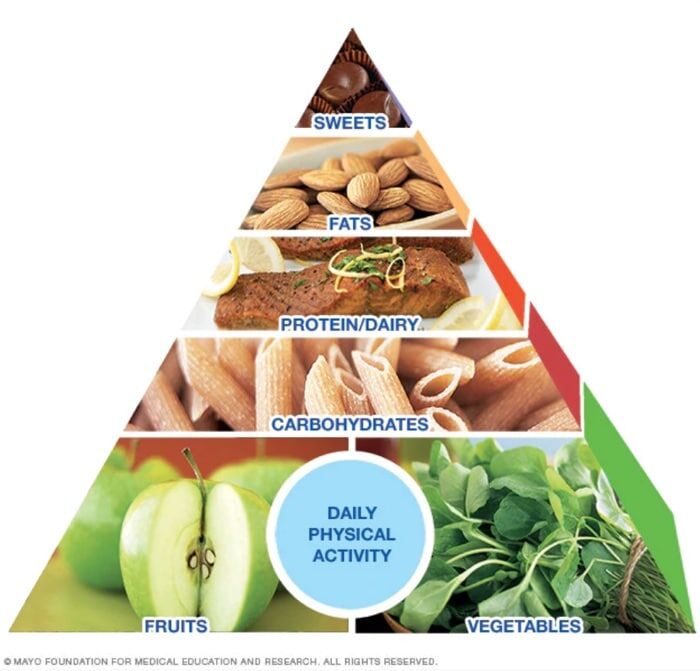 Sample Menu
Wondering what a typical day on the Mayo Clinic Diet might look like? For the most part, you'll be trying to stick to about 1,200 calories per day.
They'll help do the meal planning for you, so you can be sure you're sticking to these caloric limits.
Here's what an average day might look like:
Breakfast
1/2 Cup Oatmeal, Mixed with 1 Cup Skim Milk, 2 Tablespoons Dried Fruit,
1/4 Fruit
Black Coffee/Tea/Water
Lunch
Garden Burgers (without the bun)
Salad, and Dressing of Your Choice (Fat Free)
Water, Black Coffee, Tea
Dinner
Salmon Cakes
3/4 Cup Fruit or Veggies
Water, Tea, Other Calorie-Free Beverages
Snack
1 Cup of Veggies (Carrots, Peppers, Cucumbers)
2 Tablespoons Hummus
How Much Exercise Do You Have to Get?
Mayo Clinic Diet recommends at least 30 minutes of daily activity. If you want further health benefits, they suggest shooting for more than 30 minutes if you're healthy enough for it.
On top of that, they suggest moving more throughout the day.
How can you make that happen?
Take the stairs instead of the elevator…park farther out in the parking lot when going to the grocery store. That's what developing "healthier" habits looks like, and will go a long ways in helping you keep the weight off for good.
Real Customer Testimonials: The Good + The Complaints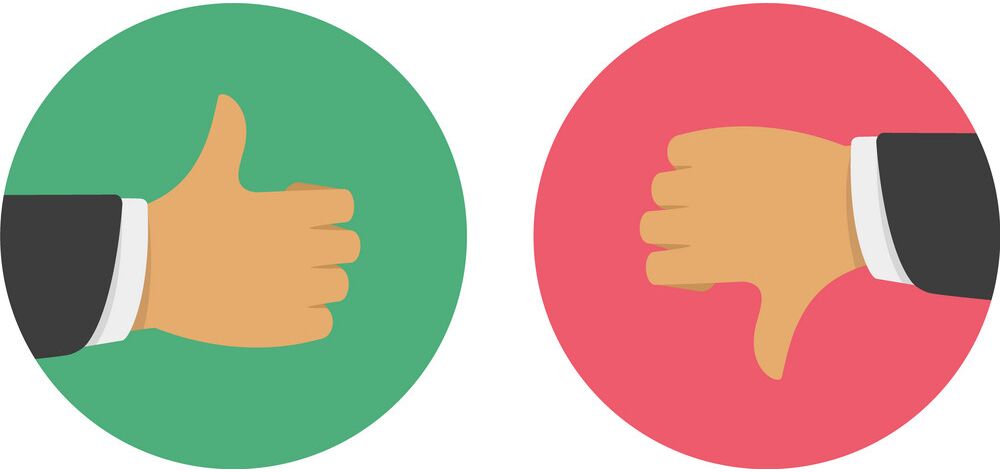 There are plenty of verified Mayo Clinic Diet reviews out there for you to read, and we definitely encourage you to read as many as possible before trying this diet.
Here are a few we wanted to share with you, so you hopefully get a well-rounded picture about what this diet has to offer.
Let's start with the positive reviews:
The Good
"Very healthy way to lose weight. I have never been attracted to diets that weren't based around the four food groups. This diet really teaches healthy eating. Although you don't lose 10 pounds over night, you do learn healthy eating habits and lose weight in the process. I just finished the 14 days and lost 5 1/2 lbs. I would have lost at least 6 or more if I had exercised every day, I'm sure."
AJ had better results than expected…
"I didn't know if this would help or not. I didn't lose the 6-10# but I received a better benefit: my SLOW metabolism has speeded up. At Thanksgiving, I ate like there was no tomorrow for a diet, I did this for 5 days. Normally, I would have gained 5# minimum. However, I gained only 1 # and now it seems as if I am continuing to lose weight. I have tried for years to speed up my metabolism by more exercise, eating more often and smaller meals to no avail. THIS DID IT! HOORAY"
"I just restarted the Jump Start portion and am having fantastic results. I have not been able to lose weight like this in a very long time no matter what I did or didn't do. I am now below what I was more than 20 years ago. I still have one more week to go and then will probably go on maintenance. The problem will be how to keep it off. Also, it is very rewarding to take a size smaller in jeans. Now everyone is asking how I did it…"
For Ann, Mayo Clinic Diet was a plan she could finally stick with…
"I have "dieted" all my life it seems, and I have read volumes on various methods of losing weight, getting healthy, et cetera. In most of the plans I have read about, vegetables [not starchy ones] are "free." Well, in the Mayo plan, vegetables AND fruits are "free." Now that makes it a plan that I can actually enjoy. Hungry in between meals? Have fruit or vegetables. Yes, I believe I have found the plan I can stick to, lose weight with, and totally benefit from."
Complaints?
Most reviews you'll read about the Mayo Clinic Diet are on the positive side, but there are a few complaints out there.
Jennifer thought the information seemed outdated…
"It's an old diet and doesn't have the most up-to-date information. Having said that, I believe it would be a good way for the person who isn't over weight to begin with, to use as a good nutrition diet."
Aiysha seemed to have healthy eating mastered before buying the program, so not sure why she needed it?
"This is basic knowledge. Nothing extraordinary or ground breaking."
Most of the complaints seemed to be from people who thought the information wasn't that valuable, but the important thing to point out is this: Not everyone knows what healthy eating or exercise looks like. That's why they typically go searching for a program like Mayo Clinic Diet.
If you happen to fall into this category, then I'd say Mayo Clinic Diet is still worth considering, and is going to be a great weight loss plan for most folks.
Before and After Pictures
For me, the proof is in the pictures. That's why some of these are so inspiring, and are a great visual representation of just how well this diet can work.
Ready to get inspired?
Check these out…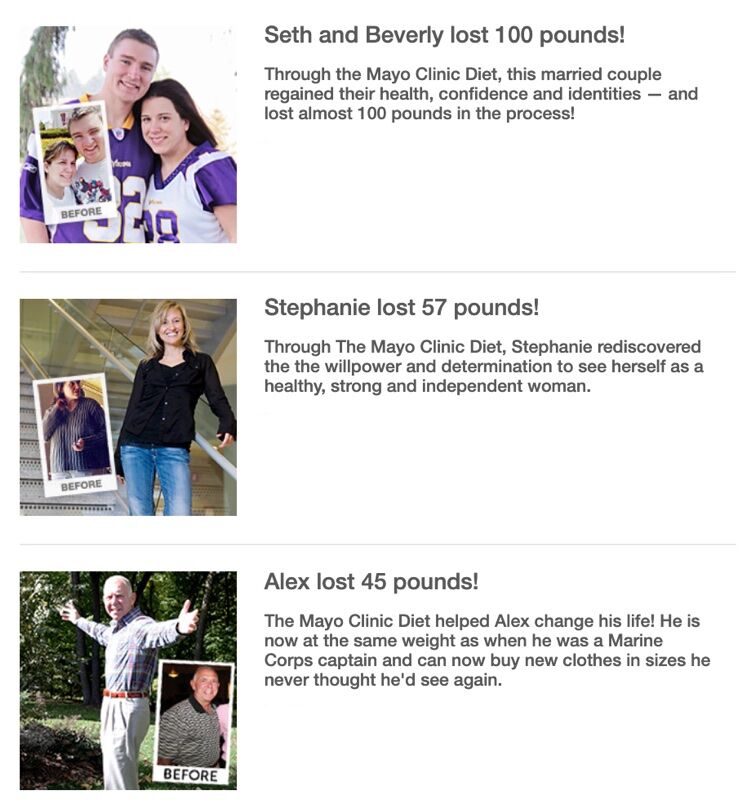 Mayo Clinic Diet Pros & Cons
Here's a quick look at what we see as the good and bad of this diet…Full disclosure, the pros outweigh the cons when it come to the Mayo Clinic Diet:
Pros
Focused on Long-Term Weight Loss
Easy to Follow
Huge Database of Healthy Foods
Exercise Database
Lose up to 10 Pounds in First 2 Weeks
New Mayo Clinic Diet App
Pretty Affordable
Based on Research and Clinical Studies
Cons
Requires Lifestyle Changes for Best Results
Some exercise encouraged
Have to make your own meals
Mayo Clinic Diet Cost: How Much per Month?
Mayo Clinic Diet costs $5 per week. It's billed quarterly, which comes out to be $65 every 13 weeks. You membership will continue, and you will be billed every quarter until you decide to cancel your automatic renewal service.
Review Summary
If you're looking for a quick fix, or another fad diet, then the Mayo Clinic Diet isn't for you…
But, if you want to…
Lose Weight and Keep it Off for Good
Learn How to Replace Your Bad Habits with Good Ones
Lose Up to 10 Pounds in 2 Weeks
A Program You Can Afford
Then the Mayo Clinic Diet should be at the top of your list.
At last check, you could get started for just $5 per week…
Cited Sources
Mayo Clinic. Found here: https://www.mayoclinic.org/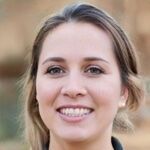 Latest posts by Megan Ayala
(see all)