Written by Megan Ayala. Last Updated: January 10, 2023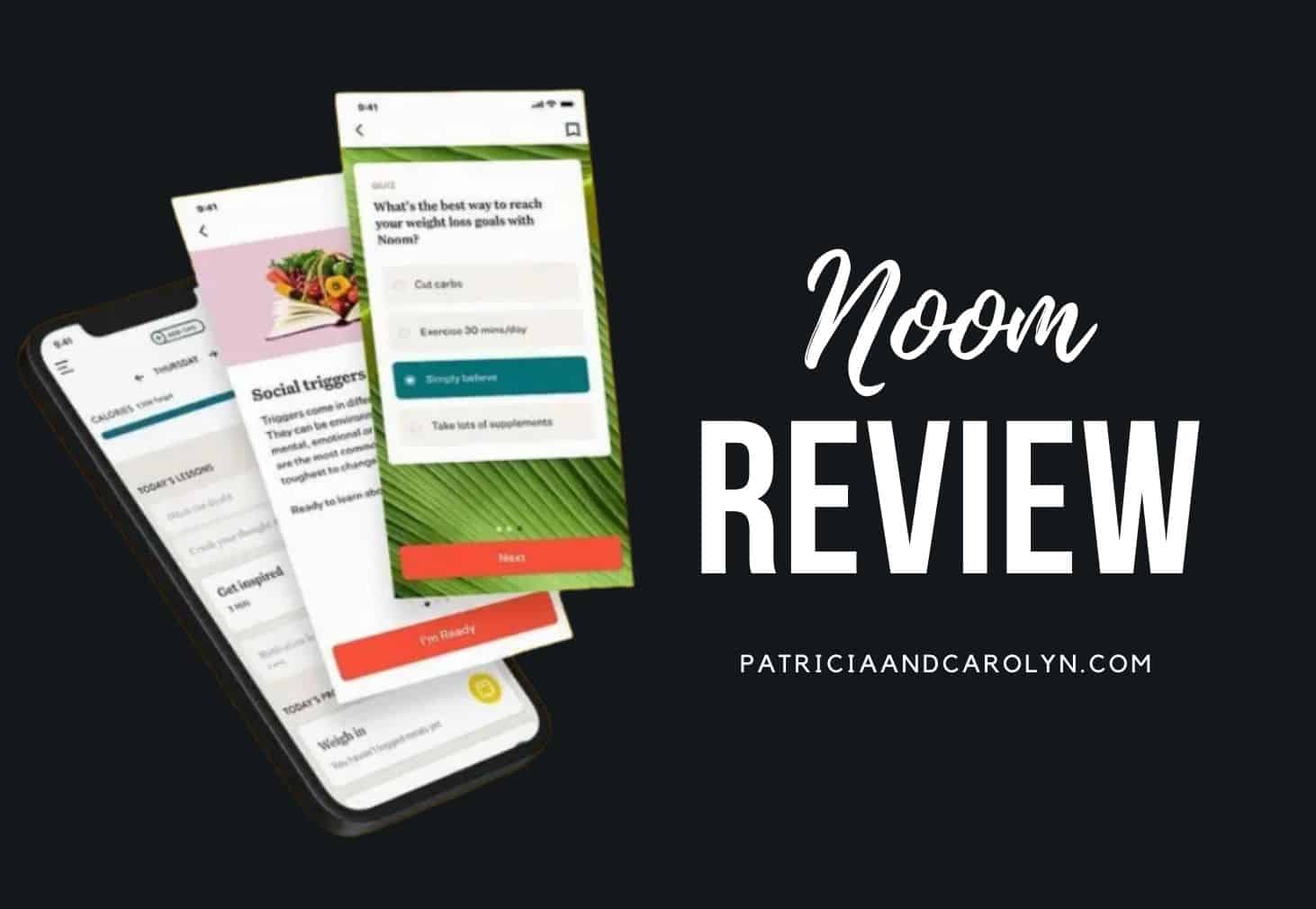 Looking for an honest Noom review?
In today's modern age, finding a weight loss program that features the latest diet technology and nutrition advice to help master behavior changes and healthy habits can feel like a struggle.
Many weight loss programs really are stuck in the past. There is, however, one food logging, weight loss program which stands out. It is known for combining the perfect blend of the latest technological features, with proven weight loss methods, to form the perfect modern-day health solution.
It's called the Noom diet app – a weight loss and coaching app that is currently taking over the internet and a ton of people are using [1].
In this Noom review and cost report we're going to detail what is causing all this excitement. Keep reading, and you'll learn exactly what the Noom weight loss app is, who is using it, how it really works, approved foods, the price to join, plus you'll hear from those who have put it to the test, and actually improved their health and relationship with food in a short amount of time. We will analyze the pros and cons so you get an overall understanding of the app.
If you've been looking for the real details on the way the Noom diet app works, then you may find this review really helpful.
What is Noom?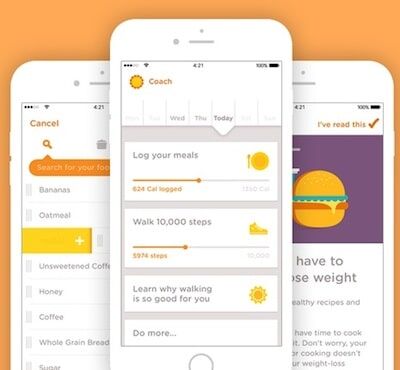 It is a weight loss app (see the best) that focuses on helping you make lasting changes to your weight and health [2], with small healthy habits and steps each week. This means, you'll be using Noom to help track food, your daily exercise, and you'll also learn how to lose weight, permanently. Basically everything you need to know to be successful in reaching your long-term weight loss goals.
Quick-fix diet apps? Those apps are a thing of the past. It's all about long term health, while also providing a weight loss and eating plan people may want to follow for life.
How does Noom help make this happen?
By teaching you small changes you can make every day, and it all takes place on their lifestyle app. The weight loss app may be your go-to resource to follow and track your progress over the coming weeks.
Get nutrition advice from your goal coach, interact with those in your group, access exercise and eating guidelines, and also see foods to eat and foods to avoid. Using the app is all about habit formation. This is not a fad diet. You don't even require a gym membership.
All of this combines to help you ditch bad eating habits, and replace them with really good habits you can follow indefinitely, or even for life. As the weeks go on, this may well become your new normal, and you'll wonder why you ever tried those other weight loss apps in the first place.
How Does Noom Work?
The weight loss program is entirely online, via the app that you will use on your smartphone or tablet to track and log everything each week. You will have a calorie budget you need to stick to, as well as a meal plan and a workout plan.
There are a few steps you'll need to take to register for the program. Go to the Noom web site and you will be redirected to the app store where you can download the app. You will then be asked to:
1. Complete Your Profile
The first thing you'll need to do to register for the Noom app is to complete your profile [3].
You will be asked a series of questions which helps them get to know you better – along with how much weight you may want to lose, any health issues you might have, the food you've been eating, and about how much time you're really going to need to reach your ideal weight.
It doesn't take much time – maybe five minutes, and remember, it's the way they're going to get to know you and develop a personalized plan for your long term health goals.
The following is an example of some the lifestyle questions you may be asked:
Your Age
Goal Weight
Other Diets You've Tried
Your Current Activity Level
Whether or Not You're Diabetic
Have You Taken Antibiotics in the Last 2 Years
Do You Have any Serious Back Issues?
Are You Risk for Certain Diseases?
What Your Daily Schedule Looks Like
Do You Like to Cook or Eat at Restaurants mostly? What Food Do You Eat?
Where do You Live: The Country, Suburbs, or a City?
As you answer these questions, their algorithm is at work developing a plan built specifically for you.

2. See Your Daily Calorie Intake for Reaching Your Goal
Based on the information you've provided, including your target weight, Noom will provide you with a daily calorie recommendation so you can reach that goal.
Then, once you've joined, you can access the foods you should be eating and approximately how many weeks it will take to reach your health goals.
Access the app to log your food, view your calorie budget, and track progress. You will also be provided with meal plans to keep you on track.
3. Meet Your Coach
After completing your profile, you'll also be assigned a goal specialist who you'll work with over the coming weeks. Your goal specialist will be a very helpful resource on your journey with the program and are a helpful personal resource.
They'll be there to walk you through your process of personal change, show you the food to eat, log milestones, share helpful content, tools you should be using, give lifestyle tips to build healthy habits, and work with you via the app.
Many people find sticking to diet plans difficult as they lose motivation after the first two weeks. Lack of momentum is one of the reasons diet plans fail. This is where Noom differs. With access to registered dietitians and a group chat, it will help keep your motivation strong.
4. Daily Checklist
Once you've officially started the program, you'll have access to a daily checklist that will help serve as a reminder for what you need to do that day to stay on track and make a positive personal change.
It includes things like:
Your Daily Weigh-in & Tracking Reminder
Meal Eating and Food Tracking Reminder: Green, Yellow and Red Foods
Suggested Self Help Articles and Content for the Day: Articles to read that are designed to help keep you in the know with timely information and content.
Goals Setting
Quiz: They"ll test you on things you've learned from their content since joining. You'll like this exciting daily challenge, and it'll help keep you on track.
5. Connect with Your Group (fellow Noom App users)
Think connecting with a group may help you on your weight loss journey? Good news – once you're enrolled, you'll be connected with your own Noom app group that is made up of other users. In the group chat you will connect with fellow Noomers, meet new friends, get advice and feedback from others, and stay on track.
The community aspect of the app is a key reason it has become so popular amongst tech-savvy users.
6. Noom Food List: What Do You Get to Eat?
The Noom food list is one of the largest food databases on the planet, which is for you to use to make healthy food choices.
It categorizes foods by a color system that uses three colors: Green Foods, Yellow Foods, and Red Foods.
Not surprisingly, green foods are ones you can eat freely (most are naturally low in calories), yellow in moderation, and red foods very sparingly. App users like the straight forward approach to healthy eating. Your greatest chance at success? Stick with mostly green food, mix in some yellow foods, and mostly avoid the red.
When you read the food catalog, you will learn the calorie content of the food you eat. Stick to green food, and your calorie count will remain naturally low for the day; eat red food, and the calorie content is noticeably higher.
The items on the green list are nutrient-dense foods such as black beans salad greens, and brown rice that are naturally low in calories. They are mostly plants and will help you to stay full, keep your blood sugar low and maintain a healthy weight loss.
We like that this helps make planning your foods and meals much easier, by giving you a clear blueprint to follow. Stick to the foods recommended, and meal and calorie tracking is a breeze as well. Plus, the food list is something you can follow for life long health.
Noom Pros and Cons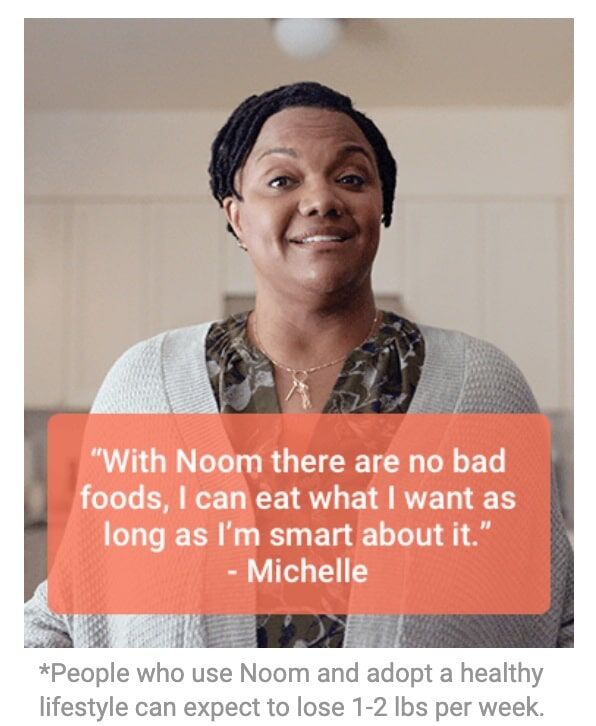 The Noom App has mostly positive attributes, in our opinion, but there are potential downsides to consider.
Let's start with the cons:
Cons
All Online: For some, the possibility of in-person meetings is more convenient
Have to make most of your own meals
Pretty pricey: About $50 per month
Pros
Backed by Science & Years of Research
Easy to Use
Work One-on-One to Reach Your Goals at No Extra Cost
Built-in Tracking: Customers Like the User-Friendliness
Learn Healthy Eating & Exercise Habits
Not a Quick Fix Program: Change Behavior Over Time
One of the Largest Food Databases Available
Huge Database of Helpful Articles and Information
An Eating Plan Designed Just for You
Based on the Latest Technology and Research
Works on Most Smartphones and Tablets: Apple, Android, Amazon, etc.
See Exactly How Long it'll Take to Reach Your Goals
Connect with Your Own Community: Support, Conversation, Etc.
7 Day Trial Available
Testimonials: Positive + Complaints from Noom users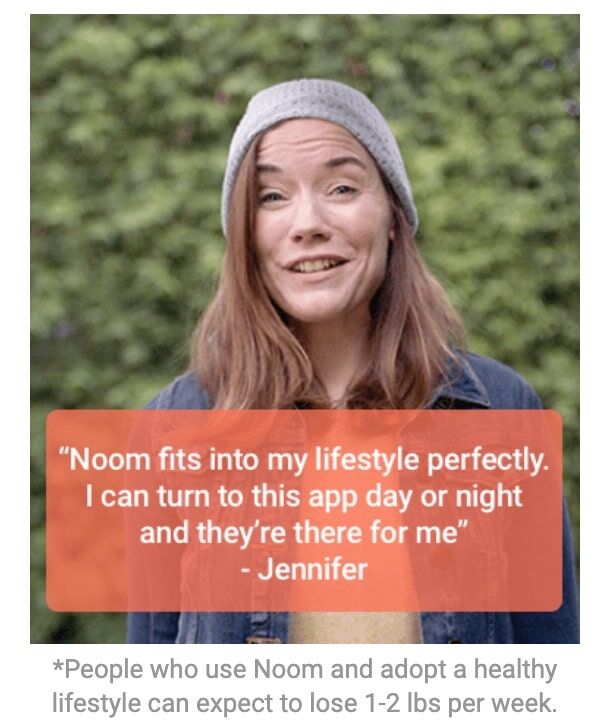 Noom has been plastered all over the internet lately, with thousands of people posting their food log and weight loss stories and testimonials on social media.
If you use Instagram or Facebook, it's pretty much guaranteed that you've seen something about the app, with most dieters reporting a positive experience.
That said, let's look at what existing Noom users are saying. Most of the testimonials used here were pulled from Trustpilot [4], which is a trusted resource for testimonials from verified customers. There are more than 10,280 testimonials there you may want to read. This is a fairly large body to pull from, so we feel comfortable sharing some of them here so you can see what others are saying. Let's start with what Noom users like:
Laura credits it for getting the most from her:
"Best way to get to your best self. I love Noom. Tried everything else over the years. It's like having an angel in your pocket. Never felt better."
Sarah says Noom is unique when it comes to weight loss:
"Noom is different than anything I have ever tried. I am learning so much and it is working well for me. I am not only losing weight, but I am also gaining confidence with in myself and changing how I think about success! Wish I would have done this sooner."
Naomi was shocked by her results:
"Blown away. Honestly I keep pinching myself that this is actually working. I am dropping weight successfully and consistently and with minimal struggle. I HIGHLY recommend this program."
Noom Negative Feedback?
While it works great for most, of course, there are those who haven't had a positive experience. For those, there are some other Noom alternatives they may want to consider. Here were some of the top negative comments we saw reported.
The cancellation process seemed to be an issue for a few users:
"Noom is like a subscription that automatically renews you can never cancel you will get to a point where you want to do in on your own and could but they won't let you."
Noom actually followed up on this comment and had their support team personally reach out to this customer, so hopefully, their problems were resolved.
Another customer said the app wasn't any different than tracking calories (we respectfully disagree):
"This is just counting calories with an expensive coach. I can lose weight on 1400 calories/day, but don't believe it's a sustainable strategy. Also, the app loses info constantly requiring duplicate entries of every ingredient of every meal."
Again, they responded to this complaint and were going to have their customer support team reach out to patch things up.
The big takeaway for us when reading through the complaints? Customer support responded to pretty much every negative review, which tells us they're committed to making their clients happy.
Overall, we feel very comfortable recommending Noom to anyone looking to improve their health, feel better, and who wants to change their behavior so they can make lasting changes.
Read more Noom testimonials at their website.
How to Become a Noom Coach
Maybe you are a health coach, dietitian nutritionist and are interested in becoming one of the personal coaches the app offers. There's a strict vetting process to be taken on as one of the apps coaches. This is great news for users as it means the guidance being given while on their Noom program is from highly qualified professionals.
Coaches aren't selected out of thin air – there is a very specific and detailed training they must complete [5].
Here are the criteria they must meet:
Attend "Noomiversity" Recognized by the International Consortium for Health & Wellness Training
Complete the Core Lifestyle Training at Noomiversity
Weekly Trainings They Must Complete to Stay Certified
Must Have an Associates or Bachelors Degree in a Qualified Program
2,000 of Experience in Their Field: Nutrition, Personal Coaching, Etc.
Noom Pricing options
Starts at about $59 per month if you sign up for their monthly auto-recurring plan. We go into a lot more detailing all of the costs involved on our Noom cost page.
Review Summary: Final Tips for Deciding if Noom is Right for You
Yes, if…
We'd say Noom is definitely worth it, especially considering all the benefits it brings to the table.
Keep in mind, though, individual results are going to vary, and it takes commitment and effort to lose weight
That said, it's pretty hard to find a diet program that features:
One-on-One Support
Tells You How Long it Will Take You to Reach Your Goal
Is Focused on the Long-Term vs. Short-Term Results
Teaches Eating and Exercise Habits You Can Use for Life
Connects You with Your Own Weight Loss Community
Can Be Purchased for as Little as $16.58 per Month
Offers a Free Trial
It's for all of these reasons, and more, that we're happy to recommend Noom to any adult looking for a fast and healthy way to achieve their weight loss goals.
Think Noom sounds like the right fit?
Citations
Carolyn Williams, PHD, RD, Noom is the Diet Taking Over Instagram, but Does it Work? Cooking Light. Found at https://web.noom.com/blog/2018/09/noom-is-the-diet-taking-over-instagram-but-does-it-work/
Jaclyn London, MS, RD, CDN, What is the Noom Diet? A Nutritionist Explains How the App Can Help You Lose Weight. Good Housekeeping. Found at https://www.goodhousekeeping.com/health/diet-nutrition/a26023584/noom-diet-plan-review/
Find out how much weight you'll lose for good with Noom's free 30-second online evaluation, Noom. Found at https://noom.com
TrustPilot. Found at https://www.trustpilot.com/review/noom.com
Alexa, How to Get into Virtual Health Coaching with Noom. Single Moms Income. Found at https://singlemomsincome.com/how-to-become-a-virtual-health-coach-with-noom/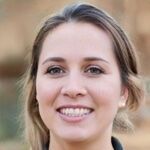 Latest posts by Megan Ayala
(see all)