Written by Megan Ayala. Last Updated: January 10, 2023
Noom vs. Lose it!? Well, when it comes time to lose weight, there are two diet apps that stand out as being among the very best: Noom and Lost it! While both diets work great, there's a chance that one may work better for you when compared to the other.
In this article, we'll compare both Lose it! and Noom, and by the end, you'll hopefully have a very good idea about which of these programs will your best fit.
Read to find out if Noom or Lost it! is the better diet for you?
Great.
Let's get started…
Noom or Lose it!: The Highlights
Want to know what makes Noom and Lose it! different from each other? Here are the key highlights that you should know about before we get started:
1. Noom Has 1:1 Coaching
Noom is one of the only diet apps that provides customers with a one-on-one coach [1]. This is key for a lot of people who could use the extra support to reach their goal weight.
Coaching has been proven to an effective way to help people on their weight loss journey, and Noom can give you this key benefit at a very affordable price.
2. Noom Has the Largest Food List in the Business
Noom's food list is one of the largest in the industry [2], so if you're looking for maximum variety, Noom may be the better fit.
3. Lose it! Has a Free Plan / Noom Has a Free Trial
If you're looking for a bare-bones diet app, then you can opt for the free version of Lose it! It won't get you all the bells and whistles, but you do get access to their food and exercise tracking.
If you want their premium services, you'll have to pay for it – more on that below.
Noom, on the other hand, doesn't offer a free plan, but they do give you a chance to try their full service, free for 14-days. This is a great way to see if you like Noom, without committing any money.
Noom: Top-Rated Diet App, Plus 1:1 Coaching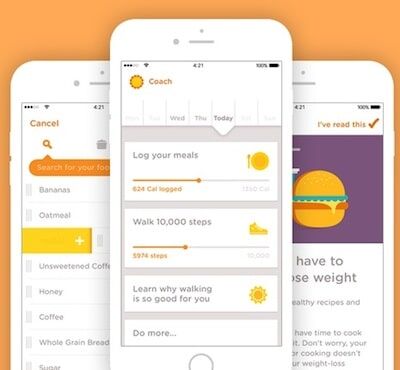 If you're looking for one of the most well-rounded diet apps available, then Noom is worth a look. It offers everything you need to be successful, and at a price that is pretty affordable considering all of the benefits that you get when becoming a member.
Read our review of Noom to get the full rundown, but here's a quick look at a few of the things you get access to if you decide to join Noom:
How it Works
Weight Loss Plan Based on Your Unique Profile
Clearcut Weight Loss Goals and End Date
Work with Noom Coach Throughout the Process
Use App for Food Tracking, Weight Tracking, and to Find Food and Recipes
Based on Scientific Research
Massive Food List
Is the Coaching Worth it?
In my opinion, the coaching is definitely worth it, if you're the type of person who would benefit from working one-on-one with a Noom pro. Coaching isn't necessarily for everyone, but you should know if you're the type of person who could use it [3].
So, to decide if it's worth the extra money, ask yourself: "Am I the type of person who could use a health coach to reach my goals?"
RELATED READING: OPTAVIA vs Noom
If the answer is "yes," then Noom may be worth your consideration.
Pricing Options
As we said, Noom's coaching service comes at a premium, but there are some ways to bring the overall cost down a bit. Even with the extra money you'll pay for a coach, it's still pretty affordable by industry standards.
If you opt for the yearly plan instead of going month-to-month, then you can cut the monthly cost in half. If you opt for the monthly plan, you can expect to pay about $50 per month, but the yearly option pencils out to just over $20 per month.
How to Try Noom
The best way to find out if Noom is right for you is to try it out…
Right now they're offering a 14-day trial of their program, which gives access to everything: A coach, the noom community, their food list, and much more.
Lose it!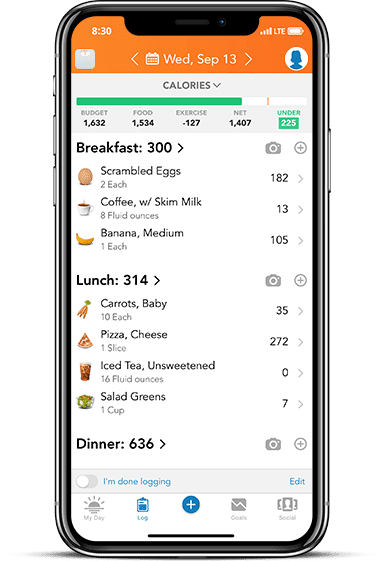 Lose it! is another very well-known weight loss app, and their slogan is "Calorie Counting Made Easy" [4]
While they don't have all of the features that Noom does, it's a great app for basic food and exercise tracking, and if you opt for one of their paid plans, they throw in a few more features.
Here are a few of the things Lose it! brings to the table [5]:
How it Works
Track Your Food and Exercise
Huge Food Database to Help with Tracking
Barcode Scanners
Snap a Picture of Food for Tracking
Connect with Lose it! Community
Syncs with Most Fitness Watches and Apps
Is Their Paid Plan Worth it?
If you want access to all of the features Lose it! offers, then we'd say the $3.33 per month you'll pay for their paid plan is definitely worth it. It upgrades to features like meal planning guides, recipe and workout libraries, and even can track your water intake.
If you have the couple of dollars per month to spare, we'd recommend it.
That said, you can also download the free version of the app, to see if it's right for you, before committing to a monthly purchase.
Pricing Options
As we said, Lose it! has a free version of the app. It comes with a few basic features. If you want access to all of their features, then it will cost you $3.33 per month.
Where to Try Lose it!
To try Lose it! simply download the app on your smartphone or tablet, and you're ready to get started.
Summary: Our Winner?
At the end of the day, the choice between Noom or Lose it! will be totally up to you. You should know the type of diet that is going to get you the best results.
If you're the type of person who tends to try a lot of diets, but has trouble seeing them through until the end, staying on track, easily strays off course, then you may benefit from the coaching and community support that Noom offers.
Noom's Our Top Choice
It's for that reason that our top-pick is Noom: in our opinion, it's the total package.
Citations
Samantha Cassetty, RD, What you need to know about the weight-loss app Noom, according to a dietitian, NBC News. Found at https://www.nbcnews.com/better/lifestyle/what-you-need-know-about-weight-loss-app-noom-according-ncna996026
Evan Lee, An Inside Look at Noom's Food Database, Noom. Found at https://web.noom.com/blog/2016/11/inside-look-nooms-food-database/
Harvard Heart Letter, Do you need weight-loss coaching? Harvard Medical School. Found at https://www.health.harvard.edu/staying-healthy/do-you-need-weight-loss-coaching
Lose it! Weight Loss That Fits. Found at https://www.loseit.com/
Tanya Menoni, Lose it! iPhone Diet & Weight Loss App Review, Lifewire. Found at https://www.lifewire.com/lose-it-diet-app-review-2000017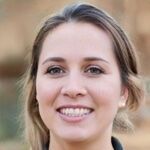 Latest posts by Megan Ayala
(see all)