Written by Megan Ayala. Last Updated: January 10, 2023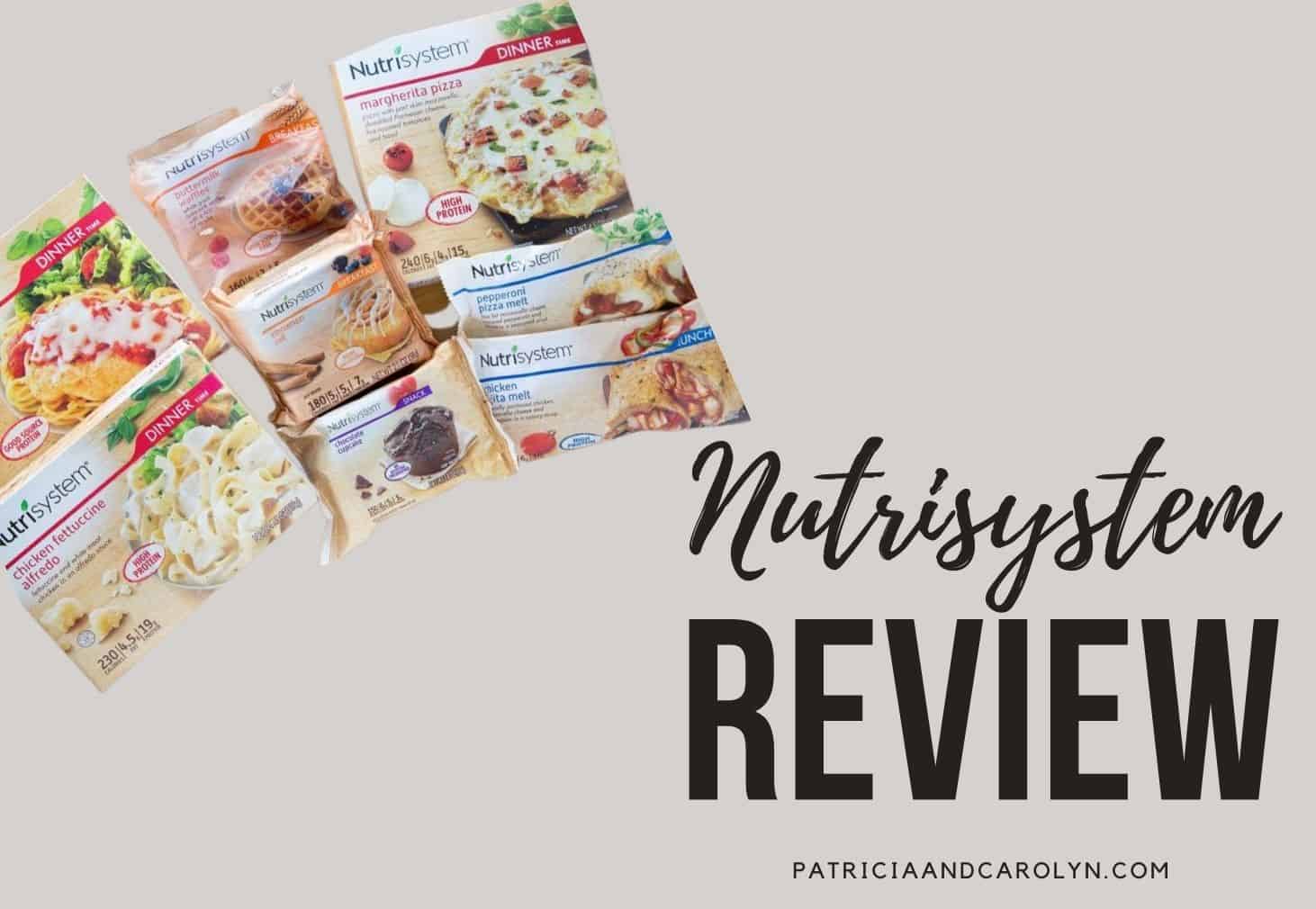 Looking for a Nutrisystem review you can trust? I joined their diet delivery service when I was at a crossroads with my weight, so I can tell you from experience how well their diet plan works.
It's one of our top-rated diets of the year, and we highly recommend it if you're looking for a program that works:
As someone who had a significant amount of weight to lose at one point in my life, I know what it feels like to be looking for a way out. While there really isn't a one-size-fits all program, Nutrisystem worked great for helping me reach my weight loss goals, and I think it can work great for many other people too, if it fits what they're looking for.
If you're the type of person (like I am) who could benefit from a diet plan that eliminates guesswork, gives you a clear roadmap for losing weight, and sends you most of the food you'll need for the month, then I think you'll want to consider the Nutrisytem diet for your weight loss needs too.
In this overview of the Nutrisystem meal plan, we'll take a detailed look at what the diet is all about, what experts say about meal plans, the price of the plan, the foods you will be eating, and the other key details you need to know before deciding if it's for you.
What is Nutrisystem?
Nutrisystem is a home delivery diet that was invented by Harold Katz back in the 1970s [1]. What started as a "liquid protein drink program" has now become a full-service healthy meal service that supplies all of your shakes, meals and snacks for the month.
Nutrisystem claims that their plan makes long term weight loss easy and healthy because you don't have to think about what or when to eat every week.
You also don't have to make meal plans or do much grocery shopping each week. The Nutrisystem plans can help you lose weight and save time on going to the grocery store.
Just eat the Nutrisystem foods, and lose weight, people say, but are these claims true?
How it Works
If you've seen other testimonials about the Nutrisystem program and their meal plan, then you know it is a diet delivery service that ships a 4 week supply of portion-controlled meals and snacks as well as shakes for you to eat every month [2]. Nutrisystem's subscribers can look forward to eating three meals, as well as three Nutrisystem snacks per day.
In addition to the healthy portion control foods that Nutrisystem delivers, you will also enjoy fruits and vegetables, and some low-fat dairy. This comes in the form of side dishes for you to eat or extra snacks.
While the Nutrisystem weight loss plan certainly can make dieting easier, and less expensive, it may not always be the best choice for everyone. It can be harder if you have a large family and aren't eating for just one, plus you can't dine out or make meals on your own as often while using the Nutrisystem meal plans.
Weekly healthy Flex Meals for eating at home or dinners out are one option, so you can opt to have meals where you don't have to eat Nutrisytem, just be sure to also factor in their prices.
As well as the Nutrisystem basic plan, they offer a Uniquely Yours plan, plans for men, women, vegetarians, and those with type 2 diabetes.
Women who are pregnant, children under 14, people with food allergies or gluten intolerances, or those with serious kidney issues should not sign up for Nutrisystem or eat their portion controlled food.
Foods: What You'll Eat Every Week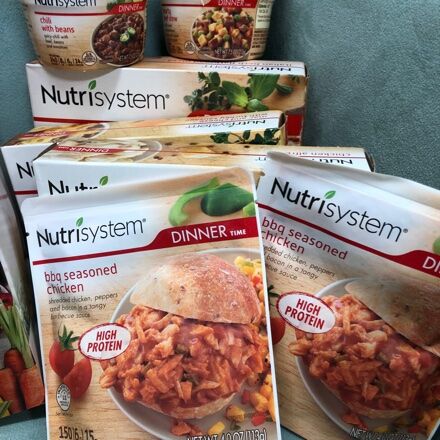 For the most part, plan to eat Nutrisystem weight loss meals and snacks for the bulk of your food each day. These are a variety of frozen healthy Nutrisystem meals, prepackaged preservative-free foods, and shakes. The meals and snacks are all included in the plan cost.
Nutrisystem has more than 160 menu items to eat on their frozen meal plan – here's a small sampling of what a typical meal might look like each day.
Breakfast: The Nutrisystem breakfast plan includes a variety of items like preservative-free options like cinnamon rolls, waffles, muffins, bagels, and cereal.
Lunch & Dinner: Lunch and dinner items delivered on the same plan, and include entrees like hamburgers, pizzas, stuffed chicken breasts, sandwiches.
Snacks: The snack and desserts are foods like bars, ice cream sandwiches, cake, bars, shakes, and more. End the day with a yummy dessert.
Nutrisystem plans also include plenty of fruits and veggies that you can plan on pairing with the Nutrisystem meals. Things like salads, celery, tomatoes, cucumbers, apples, watermelon. They provide a grocery guide, for no extra cost, with recommended items that can help you decide what to pick up in the grocery store. All items are compliant with the potion control and meal plans.
Feedback from Nutrisystem customers indicates that most of these healthy preservative-free foods are tasty, plus nutritious. They ensure you are getting variety while keeping calories low. Great for achieving both your short term and long term weight loss goals.
Nutrition
All of the Nutrisystem foods are crafted using the same nutritional matrix. The diet is based around the research on what makes meal-delivery plans effective and healthy [3]. Here's what that looks like:
Calorie Control: Nutrisystem meals are designed to help keep you in a caloric deficit, so you are primed to lose weight.
Low Sodium: While their meals are processed, they do go to extra lengths to keep them low in sodium.
Low Glycemic Carbs: People say Nutrisystem only uses "good" low glycemic carbs in their plan, which helps avoid blood sugar spikes. This also helps make their plan more effective for people with type 2 diabetes.
Balanced Nutrients: About 50% from vegetables, 25% healthy fats, 25% from protein.
Foods to Avoid on Nutrisystem Diet
Anything that isn't provided by Nutrisystem, or on their list of approved foods for weight loss should be avoided. Foods to avoid while following Nutrisystem each day will include things like junk foods, fast food, carbs, etc. Avoiding these will help bring your food cost down, as well as help you maintain your blood sugar levels and stay on track.
Nutrisystem provides a guide at no additional cost, that shows you exactly what to eat each day and what to avoid. All meals are provided in line with your daily calorie intake requirements so don't worry about this part too much.
See their full menu at their website.
My Favorite Nutrisystem Meals & Snacks
When you join Nutrisystem, you'll see that they have a lot of great meals and snacks to pick from. While most of them are pretty good, there were a few that I really enjoyed. Here are a few of my favorite meals and snacks from my latest round on the Nutrisystem diet:
Nutrisystem Hearty Inspiration Meals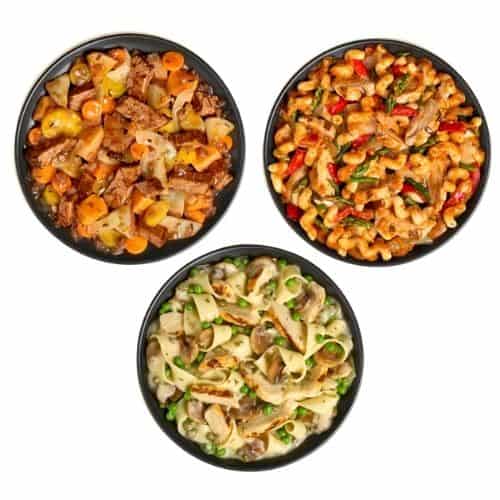 These are some newest meals they have introduced, and they're by far my favorite Nutrisystem meals. As the name suggests, the meals are hearty, and are a fresh take on many of the classic home-cooked meals that many of us love. Here are a few of the Hearty Inspiration Meals that I especially enjoyed:
Red Pepper Chicken and Pasta Sauté
Merlot Beef with Root Vegetables
Lemon Caper Chicken
Grain-Crusted Pollock With Vegetables
Beef Lo Mein
This meals are part of Nutrisystem's premium frozen foods menu (not available for Nutrisystem Canada), so if you do decide to join, you'll have to opt for their Uniquely Yours plan, or one of their other upper-tier options – but they're worth it, in my opinion!
Nutrisystem Hydrating Fat Burner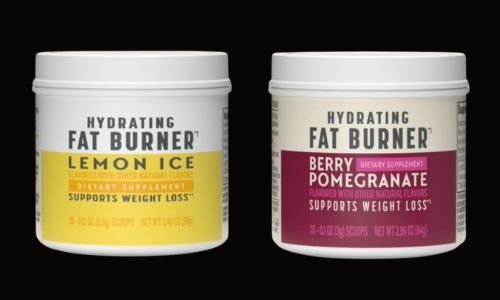 While I'm not always crazy about "fat burner" the Nutrisystem Hydrating Fat Burner is a yummy drink that you can make once or twice a day. I found that it helped to keep my hunger cravings in check, and was a nice, refreshing treat to look forward to as well.
I still use it, even now that I'm not currently on the Nutrisystem meal delivery program at the moment. It's just become part of my maintenance routine, and can be purchased via their al a carte menu.
The Hydrating Fat Burner comes in several flavors:
Berry Pomegrante
Lemon Ice
Cherry Berry
Strawberry Lemon
The Lemon Ice flavor is my personal favorite – learn more about they Hydrating fat burners and the Hearty inspiration meals at the Nutrisystem website.
Menu Choice

When you choose to sign up for the Nutrisystem meals you have the option of picking your own daily healthy foods, or you can have them do it for you.
If you're brand new to Nutrisystem, they recommend letting them pick your meal plans for your first 4-week shipment, which can also be nice to keep the total cost down.
RELATED READING: How Much Does Nutrisystem Cost?
Nutrisystem Flex Meals
The addition of weekly healthy Flex Meals to the Nutrisystem weight loss program, means you have the opportunity to prepare your own home-cooked meals or dine out if you choose. Of course, plan to also budget for the cost of this food. Nutrisystem has food guides to show you what to make, including ingredients lists.
Nutrisystem also provides restaurant guides, so you know what to order when dining out, and Nutrisystem users have pointed out that these are convenient for making healthy choices for meals.
Is it Hard to Maintain Long Term Weight Loss?
For the most part, our research on the Nutrisystem diet finds that it is very simple to follow, plus it's also cost-effective. As we mentioned above, having a large family, or if you prefer to cook your own meals, can make their plan a bit harder.
If you're the type of person who can follow directions and maintain a diet plan, though, then the Nutrisystem weight loss plan may be a good fit for you.
As long as you use the weight loss foods Nutrisystem sends throughout the day, utilize their grocery list as a guide, and follow their plan, you shouldn't have any short term problems losing weight.
Do You Have to Exercise?
How much exercise do you need to get on Nutrisystem? You don't have to exercise every day to lose weight on the plan, but they recommend you get at least 30 minutes of activity per day [5]. Other testimonials we've examined suggested that people were able to get better results when incorporating moderate exercise, which is something to keep in mind.
Physical activities they recommend for staying healthy, include something as simple as going for a walk or bike ride. Maintaining fitness while on the plan is advised and a great way to build healthy habits. Staying active will help with short term and long term progress.
Do They Offer Counseling or Meetings?
Nutrisystem doesn't have in-person meetings, like Jenny Craig or Weight Watchers, but they do offer counseling from dietitians or health coaches at no additional cost.
Plans for Special Diets?
Nutrisystem offers weight loss plans for men, women, couples, people with type 2 diabetes, and a vegetarian plan (not fully plant based). These healthy weight loss food plans cost the same per month as their traditional offerings.
RELATED READING: Review of Nutrisystem for Diabetics
Nutrisystem Pros & Cons
The goal of this overview is to help you decide if Nutrisystem food is right for you. We think it's a good idea to weigh the pros and cons of the diet, the cost of the plan, before joining.
Here are a few additional factors for you to consider:
Pros
Nutrisystem Cost: Less Than $9 per Day
Proven to Be Safe and Healthy
Lose up to 18LBs in first Month
Plans that You Can Stick With
Cuts Down on Grocery Shopping & Other Food Costs
Large Menu: 160+ Food Items to Choose
Plans for Special Diets
Meal & Diet Support Specialists Available
Many Positive Ratings
Money-Back Guarantee
Low prices
Cons
Processed Food
Frozen Meals Aren't for Everyone
Harder to Follow if You Have a Family, or Like to Dine Out a Lot
Some Negative Comments, Typically About Canceling Auto-Delivery
Have to Commit to at Least a Month's Worth of Food
Is Nutrisystem Good for Long Term Weight Loss?
There are plenty of testimonials suggesting that the Nutrisystem diet is, in fact, a success for a lot of people who choose to try it. How effective it is for you, depends on your level of effort, and how well you stick to the plan.
Some feedback indicates that keeping the weight off long term can be a bit harder, unless you're committed to the plan and making lifelong changes, and can make healthy eating and exercise choices after you've stopped the diet. It turns out, eating at home is generally considered to be healthier [4], so that may be something you want to consider when the diet plan ends.
Right now, Nutrisystem suggests you can lose up to 18 pounds during your first month following their plan. Average weight loss results are about 1 to 2 pounds per week for those who eat their food and choose the diet program.
This can help calculate how long you will need to keep to their diet as well. Assuming you're able to lose 10 to 18 pounds during month one, and then 1 to 2 per week after that, you can get a good idea about how long it will take to reach your goals.
That said most people don't need to stick with the diet for long (typically 2-3 months) to reach their goals. Wondering how long it may take to drop pounds? Learn more at the Nutriystem website:
How to Maximize Weight Loss on Nutrisystem
If you want to maximize your short term weight loss when following Nutrisystem, the best course of action is to keep to the program as closely as possible.
They make this easy, by sending you everything you need to be successful after joining. Make sure to read through the materials they send, utilize the NuMi weight loss app as your guide, and connect with a Nutrisystem counselor or support specialist if you have any issues or aren't sure about something.
RELATED READING: Nutrisytem for Men Review & Menu
Real Testimonials + Complaints?
There are plenty of reviews and Nutrisystem before and after pictures for you to consider, and if you've done any research, then you may have noticed that most feedback is on the positive side.
As already noted, Nutrisystem has been in the diet business since the 1970s, and it's hard to stay around that long unless you have a product that performs.
For the purpose of our review, we've selected a few of the top Nutrisystem testimonials we've examined – both the good and a few complaints – to share with you here.
We utilized Consumer Affairs, a third-party resource for gathering verified reviews about Nutrisystem, to find an accurate representation of what people who subscribe to the program think about it. Here's what we found:
Let's start with the positive.
Teresa, a verified Nutrsistem review from St. Paul, Minnesota, appreciated the convenience and results that it provides:
"I have been using Nutrisystem for almost a year and I am very pleased with the food and the results. My food always arrives fast and tastes amazing… Nutrisystem is flexible and offers me the convenience I need."
James, from Goldsboro, North Carolina, shared a real review of Nutrisystem Fresh Start. He says he learned what it takes to keep the weight off for good this time:
"I lost 60 pounds on NutriSystem! I want to share my success story in having lost the weight I needed to lose. I went on the plan, followed it, added exercise to my daily routine, and lost weight. I have been off of the plan for two months and have kept the weight off. I believe I have learned to eat the right amount of portions as well as the right kinds of foods."
Kim, a verified reviewer from Clermont, Florida, said she appreciated their excellent customer care:
"My frozen item came in I couldn't get home before midnight and I opened my package and everything that could melt did. There was no dry ice. I emailed last night and customer service had a new order out this morning. Thank you for the quick prompt service."
As you can see, this feedback indicates a very positive experience from real people who have used Nutrisystem. Most of the feedback we've read lean on the positive side, but there are a few complaints for you to consider as well.
Nutrisystem Complaints
Most of the bad feedback we've read about the Nutrisystem diet, seem to center around several main issues: people didn't like the portion sizes or food, they report minor side effects, or those who didn't fully understand the auto-delivery plan. We'll discuss these issues below, but first here are a few of the testimonials we found:
Robert, a verified customer from Upper Sandusky, OH, didn't like the cancellation process:
"I am completely dissatisfied with the process of canceling my Nutrisystem program. I ordered the program without having to talk with someone. I should be able to cancel the program the same way. The program did work when I stayed with it and I may try it again."
Scott, a verified reviewer from Fort Myers, Florida, also had issues canceling:
"I used gift cards and a discount code to get 50% off, as advertised on their website. Apparently, in the terms and conditions, it states $125 cancellation fee is due at the time of cancellation if you fail to cancel before the next shipment is sent out. You cannot cancel online, you must call in person."
A few things to point out about these testimonials:
Nutrisystem gives you a discounted rate if you enroll in their auto-delivery program. If you decide to cancel early, you have to pay a fee of about $125. You only have to pay the fee if you decide to cancel before your second month of food has been shipped.
This means, if you plan on following Nutrisystem for at least two months, you won't have any issues with canceling your subscription.
As some of the feedback points out, you do have to call in order to cancel your shipment. Even so, every time I have had to call Nutrisystem, they have been extremely easy to deal with and were very helpful.
As long as you keep these factors in mind when joining, there shouldn't be any surprises.
See more Nutrisystem testimonials and check latest prices here.
How Does Nutrisystem Compare to Other Diets?
Nutrisystem rates near the top when it comes to other meal delivery diets, but that doesn't mean it's always the right choice for everyone. Or you may even been looking for a different style of diet altogether, like an app-based program for example.
We've compared Nutrisystem in more detail to some of the more popular diet programs out there, and you can find some of those comparisons below:
Summary: Should You Join?
Nutrisystem is one of the best-selling meal delivery diets in the world, and can be a good meal plan for people who prefer a done-for-you style diet program.
Their processed frozen meals and snacks aren't for everyone, but if you're OK with eating that type of food, then Nutrisystem can help you lose up to 18 pounds in the initial 4 week period.
It's safe for most people, is easy to follow, and has more than 160 menu items to pick from.
Ready to get started? If you want to buy Nutrisystem, the best place is on their official website. At last check, they were offering a 50% discount plus free shipping.
If you think Nutrisystem sounds like the right diet for you, visit their website below:
Citations
Nutrisystem Diet Informaiton, Chron. Found at https://livehealthy.chron.com/nutrisystem-diet-information-2178.html
How the Nutrisystem Diet Works, Nutrisystem.com. Found at https://www.nutrisystem.com/jsps_hmr/how_it_works/index.jsp
The Effect of Nutrisystem Meal Provision on Weight, University of Kentucky. Found at https://clinicaltrials.gov/ct2/show/NCT01252303
Cooking at home tonight? It's likely cheaper and healthier, study finds, University of Washington health Sciences/UW Medicine. Found at https://www.sciencedaily.com/releases/2017/03/170314150926.htm
Carla E. Cox, Role of Physical Activity for Weight Loss and Weight Maintenance, American Diabetes Association. Found at https://spectrum.diabetesjournals.org/content/30/3/157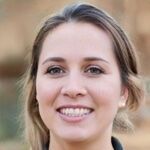 Latest posts by Megan Ayala
(see all)