Written by Megan Ayala. Last Updated: July 16, 2023
Nutrisystem is the most popular meal delivery service diet globally.
But how much does it cost to sign up for one of their weight loss programs? Is it too expensive? Is it worth the investment?
Nutrisystem delivers portion-controlled foods to your home according to your food preferences. If you sign up, how much will you be spending every four weeks?
In this Nutrisystem pricing report, we'll show you precisely what you can expect to pay for this home diet program, including a breakdown by day, week, month, and even how much it is for you to join for a full year.
How Much is Nutrisystem per Day, Week and Month?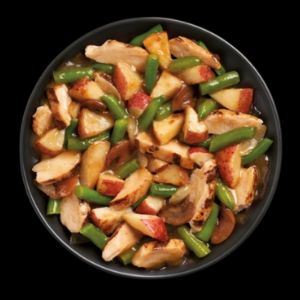 Most Affordable Plan

Classic Menu Variety

Grab and Go Meals

Starts at $9.99 a Day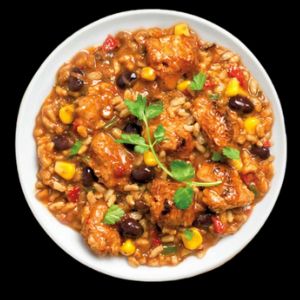 Top-Rated Menu

Most Popular Menu Variety

Weight Loss Coaching

Starts at $12.14 per Day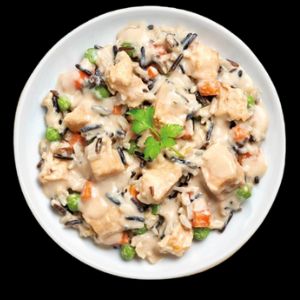 New Premium Meals

150+ Menu Choices

Personalized Nutrition Plan

Starting at $13.57 per Day
As prices for food have increased recently, so have the prices of Nutrisystem's most popular plans. In fact, they've been changing a lot recently, so we'll be keeping a close eye on their current plans and post pricing updates here as things change. At last check, here was the latest pricing breakdown for Nutrisystem:
Prices per Month: Current Price range is between $279.69 to $461.44 per month
Prices per Week: Current range between $69.99 to $115.36 per week
Prices per Day: Current range is between $9.99 to $16.48 per day
Nutrisystem's cost per week will also vary, depending on which meals and food preferences you choose. Nutrisystem's home delivery prices are discounted as long as customers join their auto delivery service. If you decline this service, you will pay about 35% more for their service each month.
*These Nutrisystem prices were current at the time of publication, you can see their most up-to-date pricing information by visiting their website below:
Current Nutrisystem Plans
Basic (Cheapest Weight Loss Meal Plan)
Uniquely Yours
Uniquely Yours Max+ (Best and Most Comprehensive Menu)
Vegetarian Diet Plan (Same Price as Uniquely Yours Meal Plan)
Nutrisystem D Diet Plan (Same Price as Regular Plans)
Nutrisystem Partner Plan
We'll give each of these food choices the price details, including what Nutrisystem provides for the money you pay.
Remember, prices will vary depending on whether you select food for males or females. The price goes up a bit for men, as they'll be sent more food with each delivery they pay for.
The portions are calculated by gender, body weight, body type, activity level, and necessary calorie intake required to achieve weight loss success.
*Important plan updates for 2023:
Nutrisystem recently made some awesome updates to all of their plans.
Customers now have the option of choosing between having meals and snacks provided for 5-days per week, or all 7 days of the week.
If you opt for their 5-day plan it will reduce your monthly cost, and then you'll be on your own to make healthy meals and snacks two days of the week.
If you want Nutrisystem to cover all of your meals and snacks for the week, you now of the option of opting for their 7-day plan, which they call their "FOOLPROOF" plan. Either way, you have options, which I think is always a good thing.
See pricing options for both the 5-Day and 7-Day plan options below:
Nutrisystem Basic: Most Affordable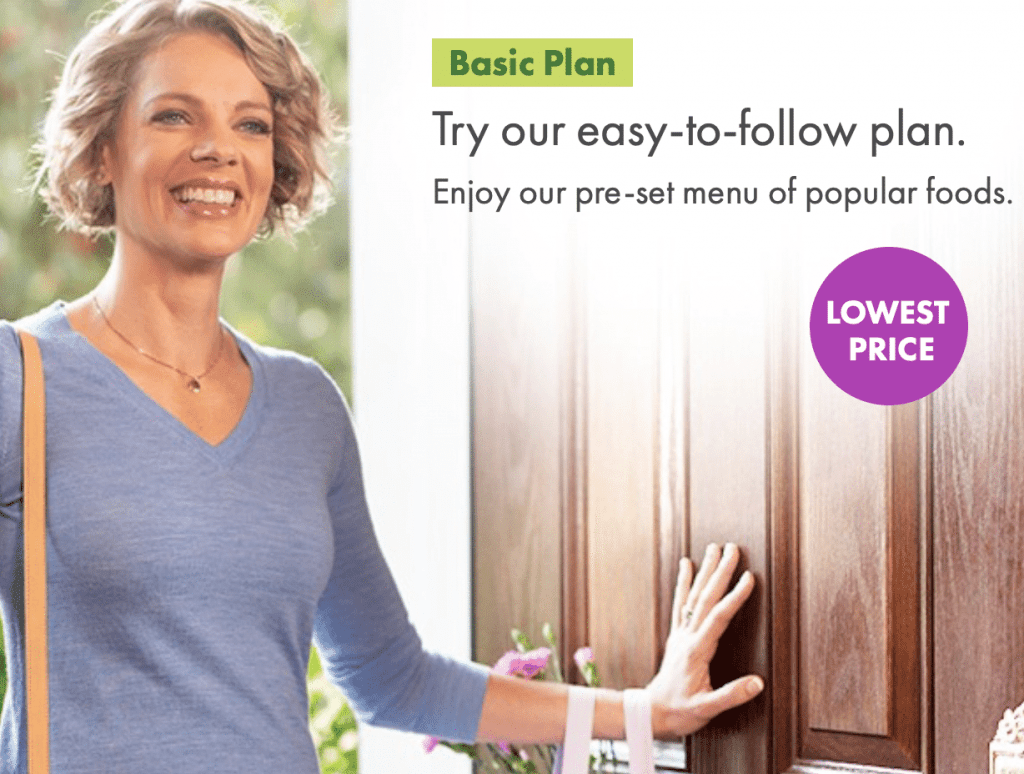 The 'Basic' is Nutrisystem's most affordable selection of meal plans to lose weight and is still very useful in helping people reach their goals. It's their most basic meal delivery plan.
These basic weight loss plans work identically to their more expensive delivery food plans. They offer many of the same benefits for the money; you don't have as much variety or access to their frozen diet foods and meals. The frozen meals are worth it, though, if you can afford them.
RELATED READING: Nutrisystem Review 2023
Even with the same benefits as their other more expensive options, you can expect to pay much less for their primary program. The primary option works perfectly for those who are on a tighter budget. People are sure to like the affordable price it offers, and it's an easy-to-follow program that's not overly expensive.
What does it include?
Here are the weight loss products Nutrisystem provides:
Nutrisystem Kit: Pre-Selected Diet Foods and Meals (No Preservatives)
Four Weeks Supply Nutrisystem Health Food & Snacks
Start First Day with Body Reboot Kit for First Week
Includes Free Shipping on Meals Every Month with Auto-Delivery
Nutrisystem Support You Need to Reach Your Diet and Health Goals
Track Progress with Nutrisystem Diet App: NuMi
Nutrisystem Guides Available for Healthy Eating & Meals to Cook, Plus Grocery Guide
Here are some more details for this option:
Cost by Day
Women: $9.99 for 5 Days of Meals and Snacks
Men: $11.63 for 5-Day Plan
Cost by Week
Women: $69.99 for 5-Day Plan
Men: $81.41 for 5-Day Pla
Cost by Month
Women: $279.99 for 5-Day Plan
Men: $325.73 for 5-Day Plan
See current Basic pricing options.
Nutrisystem Uniquely Yours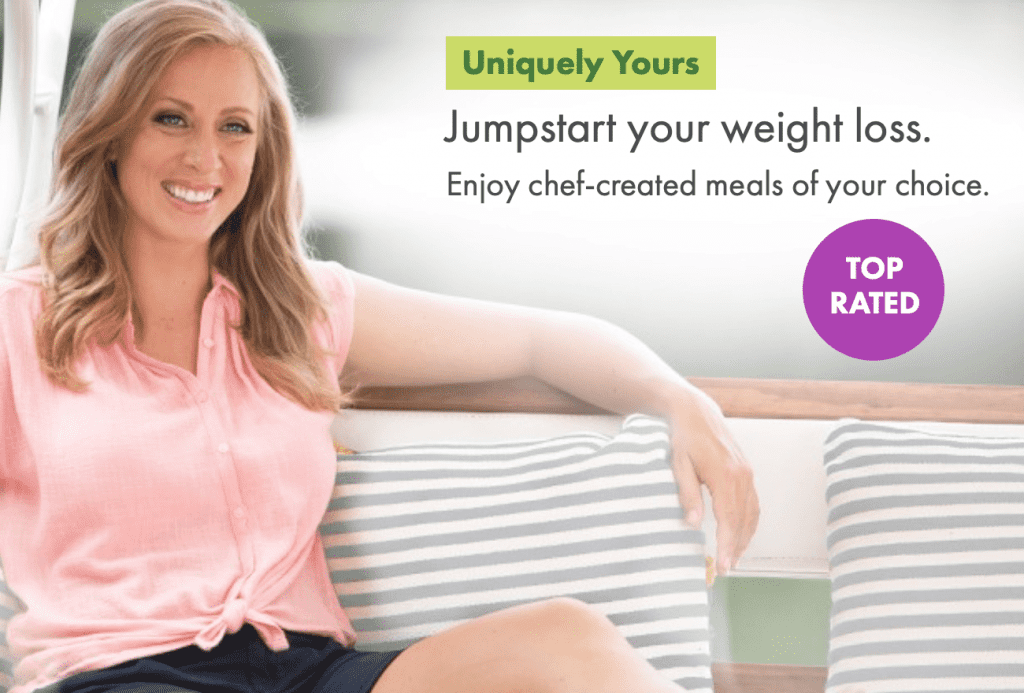 For a long time, the basic plan was the best meal plan Nutrisystem offered. It's still one of the most optimal plans to lose pounds for the money, but they recently launched Ultimate as their top plan. So far, reviewers liked this one even better than the original.
More info about that below, but first, here's what Nutrisystem includes with this program:
What's Included per Order:
Easy to Follow, Convenient Weight Management and Health Plan
Biggest Nutrisystem Menu and Best Variety: More than 160 Preservative Free Meals, Food & Snacks to Choose From
Start First Day with Body Reboot
4 Weeks of Nutrisystem Frozen Diet Food: Premium Preservative Free Foods & Meal Plan
Nutrisystem Includes Free Support, Guidelines & Resources From Weight Loss Counselors to Help With Weight Loss Results
Plus Track Weight Loss Progress and Meals with Free Nutrisystem App for no extra cost
You'll find Nutrisystem Uniquely Yours gives you everything that their cheaper options offer, but you get an even bigger and better food menu to pick from. These menus include Nutrisystem's frozen food and meals. Many reviewers consider these the best food they have to offer. In our opinion, it is definitely worth the extra money.
If you pay an additional fee, Nutrisystem will also include some effective and healthy weight loss shakes that don't have appetite suppressants in them.
If you're looking for the best-tasting Nutrisystem meals, food, desserts, and snacks to help you lose weight and drop pounds, then this health program is worth the extra few dollars. Of course, you should consider its affordability. The new variety of food in this upper-tier weight loss delivery service make it more premium.
Here's the breakdown of costs for the service before our discount is applied:
Cost per Day
Women: $11.57 for 5-Days
Men: $12.87 for 5-Days
Cost per Week
Women: $80.99 per 5-Days
Men: $90.09 for 5-Day Plan
Cost per Month
Women: $323.94 for 5-Days
Men: $360.24 for 5-Day Plan
See current Uniquely Yours pricing options.
Nutrisystem Uniquely Yours Max+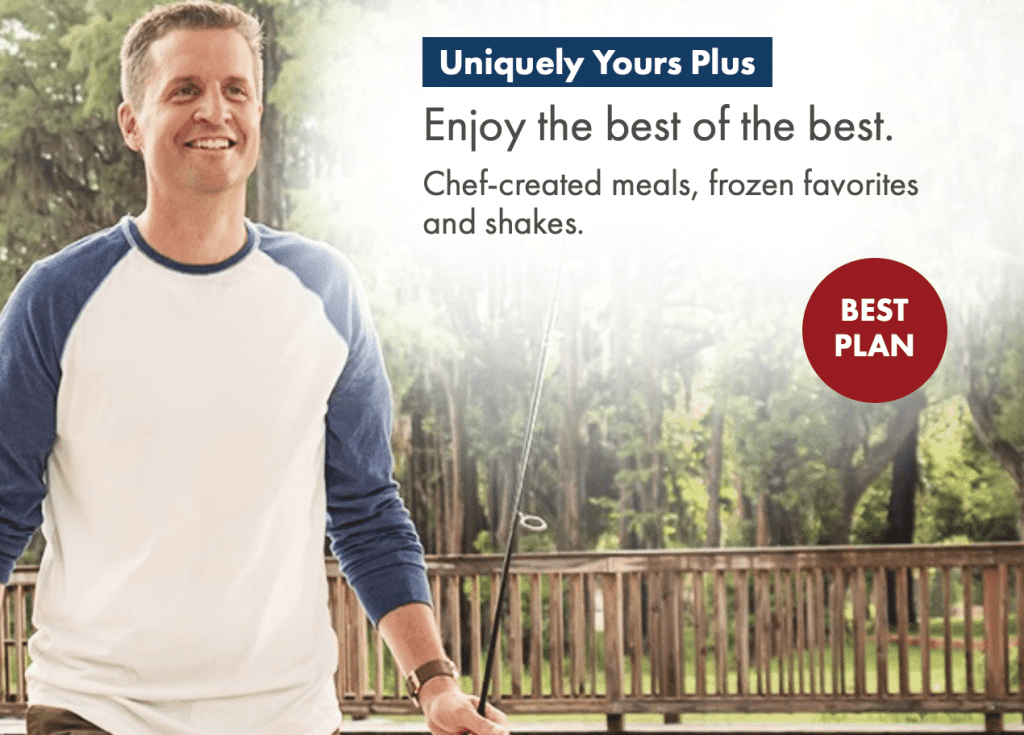 Max+ is the newest and best weight loss plan from Nutrisystem; it's the most premium food option they currently offer. This is for people looking for a top-of-the-line weight loss program to enable them to shed the most pounds. The cost for these meals is slightly higher, but you get what you pay for, and we think you'll like it.
Uniquely Yours Plus also offers a new option – you pick if you want 5 days of meals and snacks, or you can opt for their "Full Proof" plan and have Nutrisystem ship you enough food to cover your meals and snacks every day of the week. It's a bit more for their "full proof" plan, which we'll detail below.
See What's Included in the New Max Plan
Start Week One Body Reboot Kit
Access to Frozen Meals
Plus 4 Weeks of Shakes
Cost per Day
Women: $12.98 per 5-Days / $15.20 for FOOLPROOF 7-Day Option
Men: $14.28 Most Days Covered / $16.48 Every Day Covered
Cost per Week
Women: $90.86 Most Days Covered / $106.40 Every Day Covered
Men: $99.96 Most Days Covered / $115.36 Every Day Covered
Cost per Month
Women: $363.54 for 5-Day Plan / $425.69 for FOOLPROOF
Men: $399.84 Most Days Covered / $461.44 Every Day Covered
See current Uniquely Yours Ultimate pricing options
Partner Plan Cost
Nutrisystem recently announced their new Partner Plan, which allows you to join with your significant other, or even a friend. The point is, you'll be following the meal plans and making food choices together. It's a great way to keep you both accountable, there's power in teamwork.
Working as a team has been proven to have several different benefits when it comes to reaching your weight loss goals, and you'll be there for each other every step of the way.
Here's a breakdown of what's included in the costs:
Starts at $9.99 per Day per Person
RELATED READING: Learn more about the Nutrisystem Partner Plan Review
Nutrisystem D: Diabetes Plans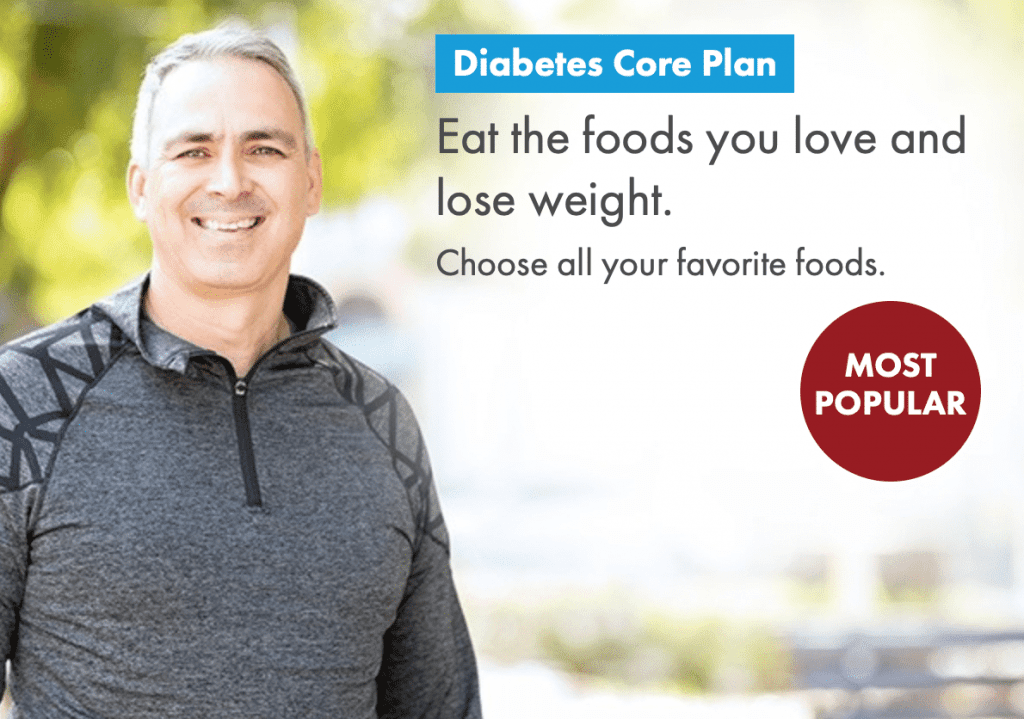 Nutrisystem also offers a weight loss food program for those with type 2 diabetes or pre-diabetics (read our Nutrisystem for Diabetics review). It currently comes in two options for you to choose from, the cost is very similar to the regular versions of each of these plans:
Vegetarian Plan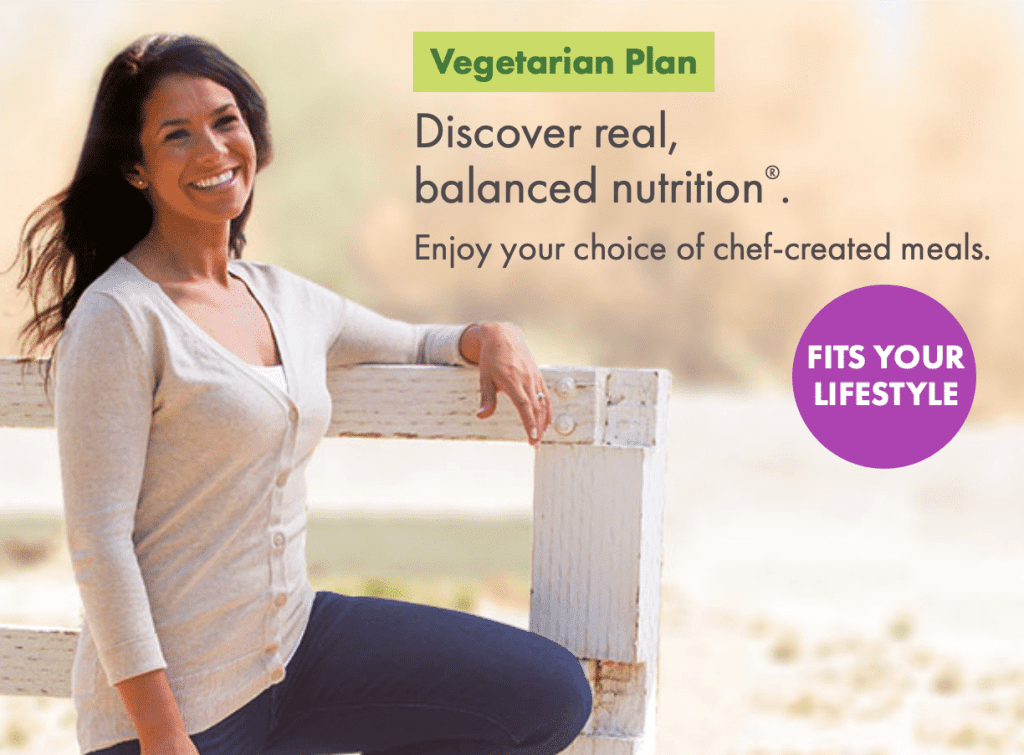 If you don't eat meat, Nutrisystem has a vegetarian plan that can still help you lose pounds, plus you'll love the vegetarian diet foods. The Nutrisystem vegetarian plan has more than 90 food choices, and the pricing is the same as the Uniquely Yours plan. It costs approximately $12.50 per day for females and $13.93 for males.
Vegetarian support is available from the Nutrisystem diet team of counselors. With the latest tracking technologies on the NuMi app, you can also consistently monitor your weight loss.
How Much is a Year of Nutrisystem?
While most people won't have to be on the Nutrisystem diet for a full year, one of the most common questions is the yearly plan price. It is useful to know so you can make a comparison with other companies such as Weight Watchers.
YOU MAY ALSO LIKE: Nutrisystem Before and After Pictures
Should you choose to be on their plan for that long, with our discount applied, the yearly price range would be approximately $3,156 for the Basic plan. This goes up to approximately $5,159.88 per year for the Uniquely Yours Ultimate men's program.
While that may seem expensive, that's a full year of food and a lot of time saved on grocery shopping, meal planning, and prepping. Don't underestimate the amount of time you will free up by having your pre prepared foods sent straight to your house.
What is the Cost of Groceries While on the Plan?
While Nutrisystem does send you a 28 day supply of weight loss meals and snacks (including comfort food selections) that you choose every month, you're also encouraged to eat fresh vegetables and some fruit throughout the day.
Your fresh produce can come from fresh greens or salad with dinner or lunch or something such as carrot slices as a snack. Nutrisystem also offers the opportunity to eat some "flex" meals as well. These are healthy meals you cook at home or when you eat out at a restaurant.
If you're looking to keep costs at a minimum, then we'd say you could cut these costs down by avoiding eating at restaurants. If you avoid these flex meals (especially at restaurants), you will also see more rapid progress towards your goals.
Summary
Nutrisystem is a very affordable and easy-to-follow meal delivery diet program. We've outlined the costs above but expect to pay between $10.18 to $15.36 per day when you join their weight loss program.
Nutrisystem BOGO Sale:
---
Additional Information
Check out this video to see why Marie Osmond chose Nutrisystem.
Nutrisystem Cost FAQs
Nutrisystem 2 for 1?This is a promo they provide from time to time, but what does it include? It's the exact health program you've come to love, but you get a discount on the overall cost. In most cases, you get access to their healthy food and support system for two months for the price of one.
Do They Sell Nutrisystem Near Me? You can often buy their healthy foods and diet snacks at Walmart and Bed Bath and Beyond, but the best place to secure the lowest prices is at their official website.
Can You Buy Nutrisystem at Costco? You can't buy their food at Costco the last time we checked. However, there are times when Costco will offer a discount card that can be applied to your online order. Costco wasn't currently offering the discount card when I checked, but it could be worth rechecking their site if you're part of the program.
Can You Buy it at QVC? QVC sometimes offers weight loss sets different from the full home meal program. A great option for losing a few pounds.
Can You Buy Nutrisystem at Walmart? Yes, you can purchase their weight loss meals and snacks at Walmart stores and their website. Again, this is usually part of a set and isn't as comprehensive as the offer on their official website. The meals are great options for people who want to eat Nutrisystem food for a week or drop pounds. Also, great if you don't want to commit to the full home program or just trial it. Of course, we typically recommend going with the comprehensive offering if you want access to their most complete program, weight loss support counselors, and have a decent amount of weight to lose. Check Walmart's website to see which meals and weight loss kits they have available.
Nutrisystem Amazon? Like Walmart, you can find a selection of Nutrisystem meals, shakes, and snacks at Amazon. Another great option is to follow their healthy eating program for a few days or a week and don't want to pay for a full month. Not the best option for folks who have a lot of pounds to lose. Check Amazon to see which meals they have available.
Where to Get Customer Support If you need support from a member of their team, it's easy to connect. They are available via several different channels: They have a support phone number for chatting with support staff when needed, or you can access their online support platform as well once you're a member.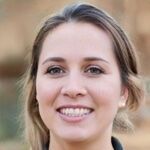 Latest posts by Megan Ayala
(see all)