Disclaimer: PatriciaandCarolyn.com is a reader-supported site. We may earn a commission if you click links on this site and make a purchase.
Written by Megan Ayala. Last Updated: May 16, 2022
Like many things regarding weight loss, there is no specific number of pounds that all people lose before their weight loss effort becomes noticeable. The weight you need to lose before you notice changes depends on your specific body type and BMI.
Your current weight and height greatly influence how soon you notice physical changes owing to weight loss.
Generally speaking, you're highly unlikely to lose weight in targeted areas. However, the physical signs of weight loss or gain might first show up on your face first, as is the case for many people.
A 2015 study by the University of Toronto [1] indicated that people need to lose between 8 and 9 pounds (or 3.4 to 4 kilograms) for other people to notice the change in your face.
To notice your own weight loss, you need to about 2% to 5% of your body weight. On average, this means you need to lose about 14 to 19 pounds to notice that you've lost weight.
Factors That Influence Where You Lose Weight First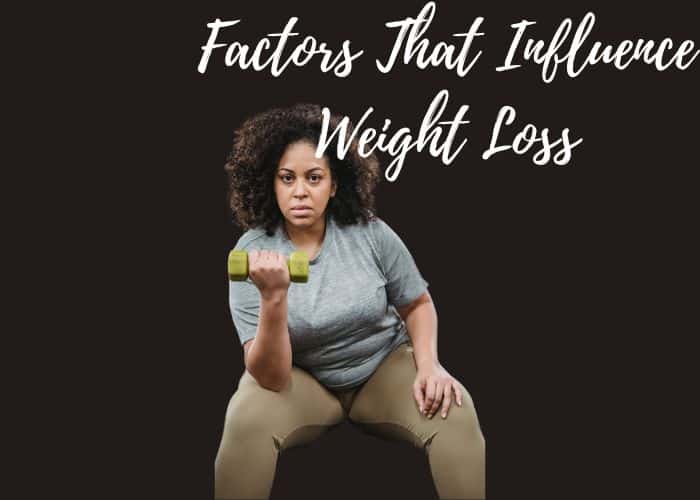 Many people taking on a weight loss anticipate targeting losing weight in specific parts of their body to meet the desired goal. Numerous weight loss programs claim to help program followers lose weight in certain parts of their body, like the hips, belly, legs, or other regions.
In reality, however, it's virtually impossible to target a specific part of your body to lose weight. Scientific evidence indicates that you cannot exercise a specific part of the body and lose weight in that part exclusively.
RELATED READING: What Are the Stages of Losing Weight?
In a 2010 study [2] involving female military officers, participants underwent an intense 12 weeks of full-body physical training. Despite their training program targeting all body parts, including the legs, the research findings indicated lower fat loss rates in the legs than in the torso.
Another 2013 study [3] designed to investigate the effects of localized muscle endurance resistance training, participants (7 men and 3 women) exercised their non-dominant leg for 12 weeks. Counterintuitively, the participants did not exhibit significant lean mass, bone mass, fat percentage, or fat mass changes in their trained (and control legs). Instead, the participants exhibited significant decreases in total body fat and fat mass loss in their trunk arms, and region.
Based on these research findings, you cannot expect to notice signs of weight loss in specific parts of the body simply because you target that particular muscle region. What will influence where you notice weight loss first is more dependent on:
Genetic Factors– Studies have shown that genes will influence a person's body fat distribution [4]. This is especially noticeable for women. Additionally, there is evidence to suggest that a person's genes will influence what works for you regarding weight loss.
Sex – Your sex has a significant influence on where you lose weight. Research [5] has shown that men tend to lose more mass from their trunk region than women. On the other hand, women tend to lose more mass from their hips. In this regard, the areas you first note that you've lost weight can depend on whether you're sex.
Age – Middle-aged men tend to store fat around their gut more than anywhere else. The same case applies to postmenopausal women. As such, while you age, these regions of your body will have more fat than other regions, and any weight loss efforts might start to shed more fat from these regions first.
Does Weight Fluctuations Influence How You Notice Weight Loss
As you pursue weight loss, you'll notice weight fluctuations. For the most part, if you're following a weight loss diet that introduces calorific deficit to your diet and you're exercising regularly, the weight fluctuation is not caused by fat gain or loss.
The daily fluctuations might be due to water and food intake. The average weight of an adult will fluctuate by as much as 5 to 6 pounds every day. Women might gain between 2 and 6 pounds during their period [6].
As such, weighing yourself on a scale daily might not reveal whether you're truly making progress. A better alternative is to weigh yourself once a week at a defined time of day.
Physiological Signs You Are Losing Weight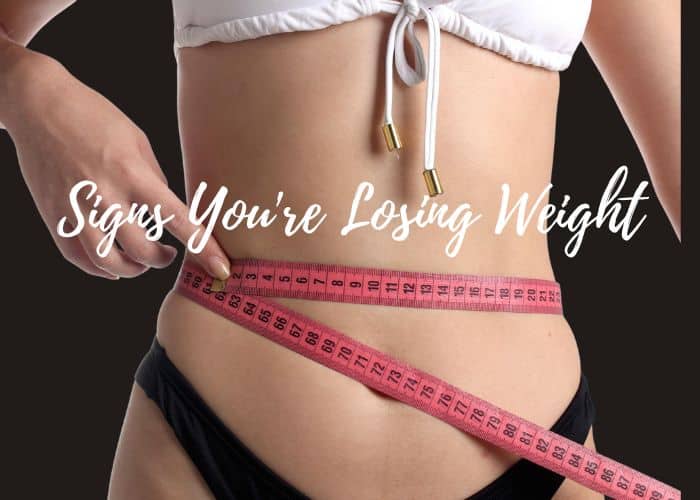 Numbers don't lie. You can always rely on your scale to track your weight loss progress. However, if you're like most people, you care about the physiological changes that your body undergoes, showing that you're losing weight. Some of the weight loss signs you'll notice first include:
1. Your Clothes Will Fit Differently
One of the first things that will make you notice your weight loss is how well-fitting your clothes get. As you progress in your weight loss journey, you'll notice that you don't have to wiggle into your jeans, and your t-shirt and shirts will fit you better. Changes in how clothes fit your body will be noticeable quite early, sometimes earlier than what you notice on the weighing scale.
2. Changes In Body Measurements
In some cases, you might notice you've lost some inches around your waist before the scales show that you've lost weight. In many regards, a shrinking waist is a better indicator that you're making progress.
YOU MAY ALSO LIKE: When Do You Start to Notice Weight Loss in Your Face?
Importantly, a looser waistband has been associated with improvements in blood sugar, blood pressure, and cholesterol measurements [7]. Additionally, losing some inches around the circumference of your waist has been shown to lower your risk of suffering cardiovascular disease [8].
As such, losing weight inches around your waist is a better indicator that you're indeed losing weight, but it might also signal that you're improving your overall health.
3. You'll Feel Less Hungry
For the most part, most modern weight-loss diets like the high-protein, low-carb diets work by inducing a calorific deficit. Dieters tend to get the vast majority of the daily calories requirements from dietary protein rather than carbohydrates while also introducing a calorific deficit
The advantage of consuming more dietary proteins is increased satisfaction and feeling fuller faster. Amino acids send satisfaction signals to the brain much earlier than carbs or fats [9]. This is partly because amino acids reduce the production levels concentration of ghrelin, the hunger hormone. On the other hand, they also increase the production of peptide YY, the hormone that makes you feel full [10].
Consequently, when you consistently eat a diet that supports weight loss, you'll most likely fill fuller.
4. Mood Improvements
Research findings presented at the International Society of Endocrinology in 2014 showed that weight loss could improve mood. In fact, the research showed that only mood improvement remained statistically significant even after two years [11].
This 2016 study [12] can explain why weight loss is associated with mood improvements. The study showed that high glycemic load diets caused spikes in blood sugar levels, which caused 26% higher scores in the fatigue levels and 38% higher scores for depressive symptoms compared to normal balanced diets. Losing weight, which involves moving away from a high glycemic diet, will eliminate blood sugar level spikes, negating the emergence of symptoms of depression.
Overall, as you lose weight, you'll notice mood improvements. You might also note an overall improvement in your psychological wellbeing, reduced anxiety, and better self-control.
5. Better Sleep (And less Snoring)
While it's not fully understood, weight influences snoring and sleep apnea. However, losing weight is one of the popular interventions for individuals suffering from sleep apnea, snoring, and any other sleep disorder.
Researchers at John Hopkins University School of Medicine conducted research [13] with the help of 77 participants. Many participants reported sleep disorders, including sleep apnea, interrupted and restless sleep. After a weight loss program that lasted 6 months involving either dieting or exercising and dieting, participants lost 15 pounds and reduced belly fat by 15% on average.
All the participants experienced improved sleep. The research also noted that reducing belly fat was a better predictor of improving your sleep quality. When you start to lose weight, you'll notice that you're enjoying deeper sleep, and you'll wake up better rested and full of energy.
6. Improvements In Chronic Pain
Losing weight is known to improve chronic pain, such as arthritis. This article published in 2018 [14] showed that losing 10-19.9% of more weight for overweight individuals or obese patients helped reduce pain associated with Osteoarthritis and improved function.
Weight loss can help reduce the strain placed on the weight-bearing regions such as the lower back, knees, and lower legs. With this in mind, individuals suffering from chronic pain may notice pain relief or lower pain levels and instances of chronic pain as a sign of reduced weight.
7. Being More Energetic, Active, And Physically Flexible
You can notice your weight loss by increased energy levels. One of the first side effects of losing weight is reduced lethargy and sleepiness during the day, which is a sign of increased energy levels. Consequently, you'll be more active and have more stamina as you go along with your regular business. Additionally, one of the first signs of weight reduction is improved physical flexibility.
8. Better Exercise Performance
Closely related to improved energy levels and flexibility, you can also notice your weight loss by improved fitness levels, which correlates with weight loss and allows you to push your limits even further during exercises. You can notice your weight loss by improving physical capabilities such as lifting heavier weights, running faster and longer, and exercising for longer.
9. Attaining Muscle Definition
While it might take weeks or months, you'll eventually notice some muscle definition. If you're consuming a healthy and balanced diet with the right amount of protein in your diet, your body will use the available proteins to build muscle.
RELATED: Is it true that the first 10 pounds in water weight?
Coupled with a corresponding decline in fat mass associated with weight loss, you'll eventually notice muscle definition.
Signs That Your Losing Weight At Abnormally Fast
While it's generally accepted that working toward your ideal BMI will improve your overall weight, you should pace yourself. You don't want to lose too much weight too fast as it might have some negative consequences such as loss of muscle mass, slowing metabolism, and nutritional deficiencies. As such, look for the following symptoms of losing too much weight too fast:
Hair loss or stunted hair growth
Gallstones
Always feeling cold
Muscle cramps
Irritability
Fatigue
Being flabby
For women, fast weight loss may lead to irregular periods
Conclusion
While you can track your weight loss progress by weighing yourself on the scale regularly, you're likely to notice physiological changes first before you notice a significant weight shed.
Use the sign of weight loss discussed above to know whether you're making positive progress in your effort to lose weight.
Cited Sources