Disclaimer: PatriciaandCarolyn.com is a reader-supported site. We may earn a commission if you click links on this site and make a purchase.
Written by Megan Ayala. Last Updated: January 10, 2023
Losing weight has never been so easy. Well, it's still hard. However, with all of the new diet and exercise apps and wearables, it's certainly become a lot more manageable for the average person.
Gone are the days where you had to manually keep a food log and calorie counter. Nowadays, a lot of the tasks are automated for you. As of 2019, around 1 in 5 Americans said they use some kind of smartwatch or fitness tracker [1]. If you're one of those that use one, you can get even more value out of your fitness wearable by using a weight loss program and app.
However, there are a lot of options in the marketplace to choose from. Two of the most popular are MyFitnessPal and Lose It!. By the end of this article, you should have a good idea of whether you should go with MyFitnessPal or Lose It!
Features Compare: What Lose it! & MyFitnessPal Offer
1. Lose It! Key Features & Benefits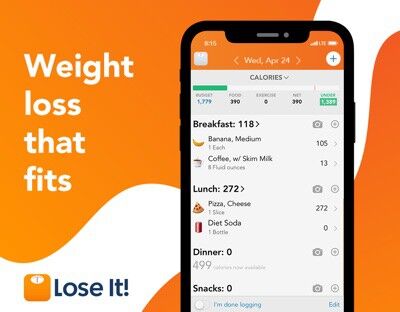 One of the biggest reasons people hate going on diets is due to the reliance on calorie counting. It's an extremely tedious task and no one likes to do it. By automating this process, you can take the friction out of your weight loss journey. By making calorie counting simpler, it can help you maintain the motivation you need. Lose It! takes all of the complexity of calorie counting off your hands to ensure that it doesn't stop you from achieving your goals. With Lose It's intuitive logging, you can easily find and log items from their 32 million food database.
Personalized Weight Loss Plan
As with any weight loss plan that is going to work, you need it to be personalized to your body and your weight loss goals. With Lose It, you will get a personalized weight loss plan created based on your unique body composition and your activity levels [2]. This ensures that you are following something that is going to help you achieve your desired results.
Not only do you need to track what you are putting into your body, but also what you are burning. You'll need to have a good count on the calories that you are burning to ensure you are burning more than you are putting in. Lose It syncs with health apps and can track exercise data based on it.
A lot of our body composition comes from our genetics. If you've ever seen someone that can eat like a pig and never put on weight, they were likely blessed with good genetics. With Lose It Premium, you can upload your DNA results from whatever provider you get it from to get nutrigenomics reports. That way, you can figure out how to optimize your diet and exercise program to achieve your desired results.
This is an intuitive and extremely cool feature. With Lose It's smart camera feature, you can make your life incredibly simple. You can log food by taking a picture of the food and selecting the correct item from the list that shows up [3]. According to the referenced study, the model that LoseIt! is using has the highest prediction accuracy rate in the marketplace [3]. This can make food tracking fun along with being convenient.
2. MyFitnessPal Key Features and Benefits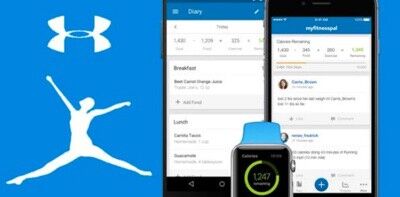 One of the most tedious aspects of maintaining a diet is having to track your food. After all, you need to track your macros if you want to stick to a diet. Not only do you need to count calories to ensure you aren't consuming too many, but you need to learn your habits to ensure you can break bad ones. With MyFitnessPal, you get to keep an easy food diary that will allow you to track everything you're putting into your body.
Researching and figuring how many calories you are consuming in each meal can be difficult, to say the least. With MyFitnessPal, you can easily scan barcodes, save your favorite meals, and recipes to log what you eat daily. The MyFitnessPal website and app have over 11 million foods in the database. Therefore, you will be able to find whatever you are looking for without having to venture outside of the ecosystem.
With MyFitnessPal, you are getting compatibility with over 50 different apps. This alone makes them one of the top options available. After all, if you are already invested in a specific ecosystem, you might not be willing to venture outside of it. For instance, if you have a Samsung Galaxy Watch, you might want to stick with a company that delivers the compatibility you need to get the most out of it.
The MyFitnessPal mobile app is one of the best in the business. It features a very user-friendly design and it is available for both Android and iOS. With the app, you can easily log all of your meals and exercises no matter where you are.
Personalized Diet Profile
With MyFitnessPal, you are getting something much more than a standard weight loss plan. Rather, you are getting a personalized one. Your weight loss plan gets altered based on your existing weight and your goals. That way, you get a plan that is designed to help you succeed rather than one that is going to keep you stagnant.
With MyFitnessPal, you can use it with any diet no matter what you are interested in. Whether you want to follow the Keto diet or another diet, you can leverage the tools and features that MyFitnessPal offers to do it the right way.
MyFitnessPal now allows you to scan meals for faster food logging. Meaning, you can quickly take a picture of the food you are about to eat and it will recognize it and accurately log it for you.
App Compare
1. MyFitnessPal
The MyFitnessPal application is excellent on both Android and iOS devices. It's free to download and use. It offers good compatibility with over 50 different apps. This means that you are likely going to find that it works with your current ecosystem whether you're a Fitbit user, a Samsung user, a Google Fit user, or even an Apple Health user.
Notable Difference – Better Compatibility
This needs to be one of the things you look for when you are shopping around for the right calorie counter and diet tracker application. After all, if you have a smart scale and a smartwatch, you'll want to ensure that the app you install supports both of them.
YOU MAY ALSO LIKE: MyFitnessPal vs Noom
Otherwise, you will quickly find that your life becomes much more complicated than when you were doing everything manually. With MyFitnessPal, you are getting compatibility with pretty much every fitness tracking device you can find in the marketplace. Thus, it is much more likely to offer you better value if you aren't someone that stuck to a single ecosystem like Apple for everything.
2. Lose It!
The Lose It mobile application is perhaps even more simple to use. One of the features that you get with LoseIt! could be a major selling point for a lot of users. That feature would be quickly entering foods through photo recognition.
Notable Difference – Better Interface
When you are using any kind of app, the interface is likely going to be the point of satisfaction or frustration. When it comes to comparing MyFitnessPal and Lose It, there is no doubt that LoseIt! has the better overall interface. It's just a much more simple and easier-to-navigate interface. Each food item that you are prompted with gets an illustration next to it and if you use the camera feature you will even get a photo of the meal you took. This way, you can easily visualize what you ate while looking at your logs.
Price Compare: Do Both Apps Have a Free Version?
1. LoseIt! Pricing & Free Trial Options
LoseIt is another app that is available for free. However, like MyFitnessPal, they have features reserved for premium subscribers. With Premium, you get access to a range of different things including DNA Insights, meal and exercise planning, advanced tracking, patterns and celebrations, and the ability to sync your devices.
2. MyFitnessPal Pricing & Free Trial Options
MyFitnessPal is free to use for anyone. However, they do offer a premium model that allows you to get more features included with your membership. Some of the features that you get with the premium subscription include being able to export spreadsheets, set calorie goals for different days, guided nutrition plans, food analysis, and insights, the ability to subtract exercise calories, and have a completely ad-free experience.
Cost: $9.99 per month or $49.99 per year
Customer Ratings Compare
1. MyFitnessPal
This is one of the highest-rated health and fitness applications in the marketplace. With a 4.7 out of 5-star rating on the App Store and a 4.4 out of 5-star rating on the Google Play Store, you cannot go wrong with this application. It has all of the features that you could need to be packed into a single app. One of the things that some users note about MyFitnessPal is that it can be tricky to learn. The app has so many features that it can be overwhelming for a new user. However, once you get the hang of the app, it becomes second nature.
2. LoseIt!
The Lose It application has a 4.7 out of 5-star rating on the App Store and a 4.6 out of 5-star rating on the Google Play Store. Therefore, you are getting a highly rated app no matter what ecosystem you're in.
YOU MAY ALSO LIKE: Noom vs Lose it!
One of the things that you will notice about Lose It is how many people love calorie tracking and food logging and the ease of everything. However, there are some complaints scattered around about compatibility and sync issues with certain wearables and devices.
You Should Pick LoseIt! if…
You want a slicker and easier-to-use interface. The Lose It app is extremely simple and easy to use. You shouldn't have any learning curve.
You only want the diet tracker portion of the app. Lose It makes it extremely quick and easy to add foods to your log.
You have one of the compatible devices that they support.
You are planning on paying yearly and you want to save some money.
You Should Pick MyFitnessPal if…
You have a Samsung fitness wearable or smartwatch.
You have a wearable that is only supported by MyFitnessPal.
You want better integration with your health-tracking life as the devices you are using will likely be supported.
You want the best food database.
References:
https://www.pewresearch.org/fact-tank/2020/01/09/about-one-in-five-americans-use-a-smart-watch-or-fitness-tracker/