Disclaimer: PatriciaandCarolyn.com is a reader-supported site. We may earn a commission if you click links on this site and make a purchase.
Written by Megan Ayala. Last Updated: January 10, 2023
There are dozens of apps, programs, websites, and diets that are designed with weight loss as the ultimate goal. We've tried out quite a few of them with positive results. A particular diet or program may work great for one person while someone else struggles to get the same results. Finding the weight loss solution that will work for you will likely require a bit of trial and error. But we're confident that a solution is out there somewhere.
Two of our favorite weight loss programs are Weight Watchers (WW) and Lose It!. These two programs share some similarities while managing to be unique in many ways.
One of them uses a customized point system for tracking your progress and the other focuses on more traditional calorie counting. They both have websites, smartphone apps, membership plans, and a handful of different features sprinkled throughout.
We believe that with enough motivation and perseverance you could use either one of these programs to help achieve your weight loss goals. But you may only want to try one at a time to avoid paying for dual memberships and double-tracking all of your food.
That's why we've created this article comparing WW and Lose it! to help you decide which app you should try first.
Features Compare: What WW And Lose It! Offer Customers
Both programs work similarly in regards to the input they require on a daily basis. As you eat, you find the foods on the app and log them into the system.
The log allows you to track your eating habits while also progressing towards specific goals. They also each offer their own set of premium features for paying members.
Those features can include additional education, coaching, and fitness plans. Here's a closer look at what each of the two programs has to offer.
1. WW Key Features & Benefits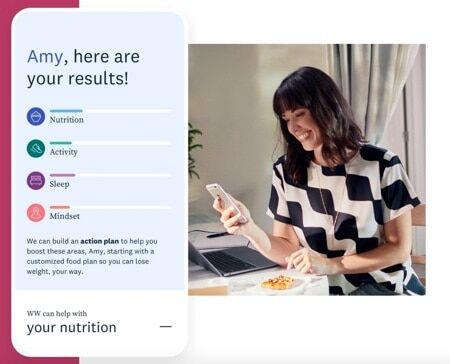 WW is more than just counting calories. It's a weight loss program that is designed to impact your entire lifestyle. At the heart of this change is their proven PersonalPoints system. Counting PersonalPoints may seem a lot like counting calories at first glance, but there are some pretty significant differences.
A great example of this is how they include a list of various fruits and vegetables that all have zero points. Of course, those foods do contain calories and would be tracked on a traditional calorie-counting program like Lose It!.
When you first become a member of WW you complete a personal assessment. The personal assessment considers your current height and weight, your health goals, your lifestyle, and how you feel daily.
All of that information is used to create a health and wellness plan that is customized specifically for you. The plan covers many areas of wellness, including physical activity, sleep schedules, mental coaching, and food. You are then provided with a SmartPoints budget that refreshes every day.
RELATED: How Much Does Weight Watchers Cost?
SmartPoints are calculated for foods by considering a few different factors. The food's calorie content does provide a baseline, but the system also considers sugars, saturated fats, and protein. The points aren't intended to label some foods as good and others as bad. There are no restricted foods on the WW plans. Instead, they are used to help control the quantity of calories, sugars, and fats that you consume daily.
The program also supplies you with a small number of weekly SmartPoints. If you don't use all of your SmartPoints on a given day, then up to four of them can roll over into the weekly budget. This creates some flexibility so you don't feel punished if you decide to eat out with friends or occasionally have that extra snack.
WW doesn't just give you a points limit and then send you into the wild to fend for yourself. You'll also be assigned to one of three food plans. The food plans aren't simply a list of allowed meals. The plan influences your daily point limit and the available 0-point foods.
This plan has the lowest number of 0-point foods, but gives the most daily SmartPoints. It's the most intensive plan because with fewer 0-point foods you are required to track most of what you eat. It's a great plan if you have strict weight loss goals or want to seriously improve your lifestyle.
The Blue Plan includes around 200 foods on the 0 point list and an average number of daily SmartPoints. It's considered the most flexible of the plans.
With over 300 0-point foods on this plan, it requires the least amount of tracking. It also has the lowest SmartPoints budget.
WW has plenty of features that make it easier to stick to your food plan and point budget. They regularly publish weekly meal plans that are designed to fit within the confines of a specific food plan. A meal plan will include all of the recipes you need and you can be confident that you won't go over budget. It's also easy to make adjustments to the menu once you understand how the points system works.
Other WW features include:
Various coaching options ranging from group coach sessions to 1-on-1 private coaching
Exercise plans designed to benefit specific food plans
Hundreds of informational articles covering topics like fitness, nutrition, and mental well-being
2. Lose It! Key Features & Benefits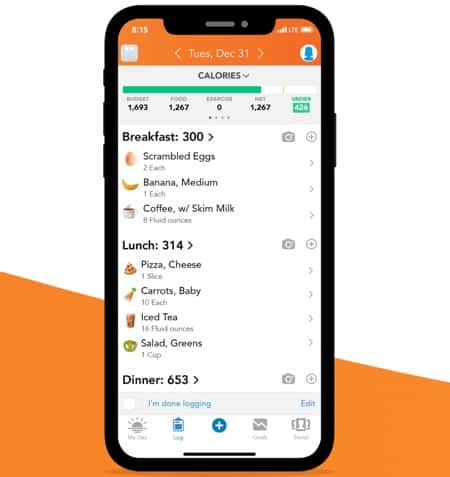 Lose It! is a little more simplistic with their approach. They employ a more well-known form of calorie counting that you may already be familiar with. In a sense, this gives the program a tad more accuracy as far as values are concerned. Each food is weighted according to its caloric content and nothing else. You'll track the calories of everything you eat in addition to any physical activity you perform. There are no "free foods".
The program starts with a personal assessment similar to WW. The difference is that Lose It! doesn't place as much emphasis on the mental aspects of your health. They are interested in primarily physical details, like your age, weight, height, and sex. You then give them your target weight and how quickly you want to achieve your goal. Using that information, the program provides you with a daily calorie budget.
YOU MAY ALSO LIKE: Noom vs Weight Watchers
There are several extra features that make this app more than just simple calorie counting. One feature we found interesting was the challenge section. This section includes a variety of public challenges that help motivate users to stay healthy. The challenges could involve certain amounts or types of exercises, reduced-calorie budgets, or restrictions on certain types of foods.
Lose It! Insights is another interesting feature. Insights is a series of graphs and reports that provide useful information based on your specific input. You can upload your DNA profile to receive personalized recommendations based on genetics.
Another section of Insights creates graphs that outline all of the foods you eat and their various calorie counts. The Food Insights sections help you clearly visualize which foods have the most calories and which snacks you might want to eat less of if you're having trouble sticking to your budget.
Here are a few of their other useful features:
Personalized meal plans and workout schedules
Third-party access to dietitians, coaches, and trainers
Additional tracking options for carbs, water, blood glucose, and macronutrients
Learn more and check current Lose it! prices
App Compare
Most of your interaction with these programs will take place through their respective apps. Both apps are well designed and provide users with access to most of the program's features. Most importantly, it's where you will track your food and exercise daily.
1. WW App
The WW app includes a massive catalog of food items and their respective scores. Whenever you eat something, you can input the food manually or use the barcode scanner. The scanner is also helpful if you're interested in finding a food's SmartPoints score before you purchase it.
The app also has access to the WW members community where you can share your story, goals, and motivation with other users. The app also includes a meditation section, various workout guides, and personalized coaching sessions.
2. Lose It! App
The Lose It! app definitely features a better overall design. It's sleek, simple, and easy to navigate. The WW app has looked the same for a while and is overdue for a redesign.
YOU MAY ALSO LIKE: Weight Watchers vs Nutrisystem
One of the great features of the Lose It! app is the ability to take a picture of your food and the program will attempt to identify it. We found this feature to be surprisingly accurate with most of the foods we tested.
Biggest Differences Between Lose It! And WW
Despite their many similarities, these two programs are clearly very different and take a different approach to weight loss. Lose It! relies on the proven methods of calorie counting. However, it doesn't give any serious consideration to other factors like protein or sugar content.
The effectiveness of the WW approach relies heavily on the accuracy of the SmartPoints assigned to a portion of food. Luckily, Weight Watchers has put a lot of effort into creating a reliable and accurate scoring system. The WW approach is also slightly more well-rounded with attention being paid to mental health and lifestyle changes.
There are also some differences in their pricing structures. Lose It! isn't afraid to offer a free version of their app to customers. It's a great opportunity to try the program for yourself and then decide if the premium features are worth the membership cost.
Price Compare
1. WW Pricing
There are three primary WW plans available with different costs and different features made available. Unfortunately, WW does not offer a free version of its program.
WW Digital Plan: This plan is limited to app-only and restricts several features. It costs $3.97 per week.
WW 360 Plan: This is their primary plan. It includes all of the features of the Digital Plan plus access to digital 360 coaches, on-demand wellness experiences, and the online WW community. It costs $5.07 per week.
WW Unlimited + Workshops Plan: This plan includes all of the features of the Digital Plan plus access to in-person coaches. Pricing varies according to the area. The average price is closer to $7.00 per week.
2. Lose It! Pricing
Lose It! only has two levels of membership. The first is a free membership, which still provides access to calorie counting tools. The premium membership is available as an annual subscription. It costs $39.99 per year.
You can also purchase a lifetime membership for $189.99.
You Should Consider WW If …
You prefer a brand with more experience and history in the industry
You want to break away from old calorie counting systems
You want access to a variety of coaches live, on-demand, and in-person
You want a food budget and meal plan with a lot of flexibility
You want to improve all areas of your health and not just your weight
You Should Consider Lose It! If …
You prefer more traditional calorie counting
You want to spend less money on the app
You want personalized health recommendations based on your DNA profile
You want to try a weight loss app for free
You prefer to visualize your progress through graphs and charts